Grace Nail Polish Review by Guest Blogger | Nail Crazinesss
With nude colors it's that you either love them or hate them.
Sometimes I need a break from the vivid colors and then I eagerly reach for shades like Grace.
Rectangular glass bottle contains 11 ml of product.
The plastic grip is matte/satin, so it doesn't slip out of the hand during painting.
Grace has a perfect formula (not too sheer and not too thick), it doesn't smudge,  dries quickly and smooth.
You'll need two thicker (short nails) or three thinner (long nails) coats for a full opacity.
I would like to add, that I didn't put a clear top coat on my nails. It's because this nail polish shines nicely with itself and extra gloss wasn't needed.
Well, it's time to write about most important thing – color! Grace is a mix of light pink and delicate beige. I even wondered if it's more beige or pink, but in the end, I would call it as muted nude pink.
Of course, like the entire Opulence collection, Grace contains a lot of scattered holographic particles.  You can see an incredible rainbow effect, especially in direct sunlight.
Grace looks very elegant on nails, that's why I think it will be a perfect choice for a job interview, for a job that requires a dress code or just when you need something neutral.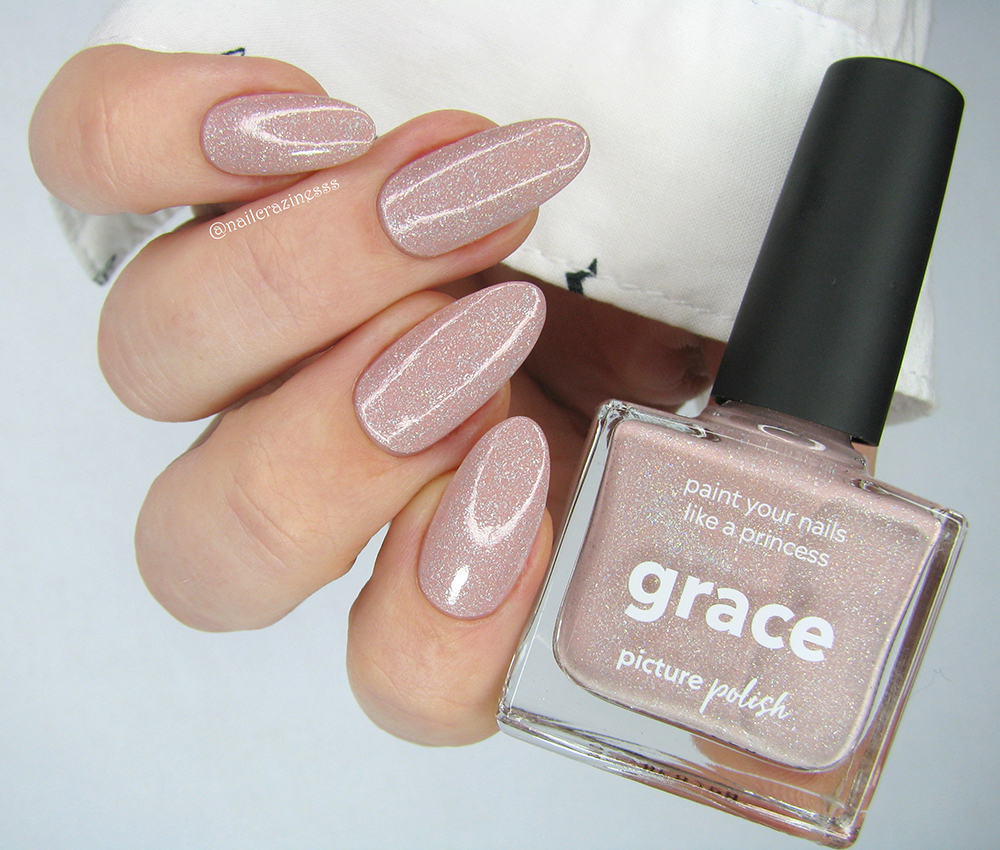 Love this color?  Shop nails now.
A little more about your Picture Polish Reviewer:
Gosia is a Blogger from Poland. She is an enthusiast of colors, admirer of crazy decorations on nails, lover of stamps – in a word, a nail technician.
Check out Gosia's blog  Nail Crazinesss for all her reviews.
Thanks for sharing your thoughts Gosia.  The Girls xox