Black Nail Polish Review by Guest Blogger | Glitter, Fork & Paper.
Black as you will tell from the pictures, is a cream nail polish and it belongs to the Classic Shades range of Picture Polish. Among the Classic polishes are some of my faves like Sorbet, Beige and Voodoo.
Picture Polish does not describe Black on its online shop but to me Black is not like any other black polish. Indeed, I own a few other black lacquers but this Black Nail Polish shade is darker, deeper and shinier. Having a very good black polish in one's collection is essential in my opinion. It's like having a little black dress in one's wardrobe. Firstly because I find black to be beautiful on hand and toes in the summer time with a little bit of tan going on but not only. Yes, it's also a must-have when it comes to nail art and as a base for other polishes. What if I say Aurora, Gravity, or Illusionist?! Yesss! To me, these Picture Polish lacquers need a black base underneath and there is no better black base for them than Black.
The brush and the way it applies
You know it now, Picture Polish's brush is not my favorite because of its shape but I actually have no issue at all applying lacquers of the brand so it is all good. Black's brush is alike any other Picture Polish brush. It is of medium length, quite flat, slightly wider towards the end and its 'hair' are cut straight.
As far as the way it applies, I will say that Black Nail Polish applies very easily and quickly. Love that!
The texture and the opacity
Black's texture. When I started applying it, I right away said "wow!". Black is a cream-textured polish, OK, but when I say it is a cream, it is indeed a cream! The texture is incredibly fine as it is thick yet 'gel' enough so Black applies perfectly. It's not goopy.  Black leaves no brush streak and even smoothes by itself. I am speechless because it is the first time I have tried such a polish texture.
As far as the opacity of goes, I think that I only need to tell you that I applied two coats of Black to get the result you see on the pictures. Yes, me, the three-coat freak, I went for two coats only because Black did not need anything more. It is indeed very very opaque and once again, I own other black polishes but I had never experienced such an opacity before  as Black. It is so deep and so black, I am thrilled.
The drying
Black dries out on my nails super duper quickly and because it applies so easily and smoothes by itself, I do not need to perfect my manicure. I know I am repeating myself but Black is awesome!
The finish
When I applied Black and took pictures of it for this post I right away thought of the moment I would tell you the following: on the pictures you just saw, I have not applied any top coat on Black. Do you see that shine?! If I would see it on someone else I would bet that she/he is wearing gel polish because it is so shiny! When I told you that Black is not just a black polish that you can find everywhere, I really meant it. Black is different. It is a true gem.
After I was done taking pictures of Black Nail Polish and after I did my little nail art, I applied my top coat and you can tell that Black is not any shinier than when it is alone on my nails.
How did it hold?
Black polishes can turn very messy and grunge-looking when they start chipping off. Well I was very happy to see that Black does not chip off. It simply and discreetly started fading away towards the free end on the 7th day of wear. Is that not awesome?!
The removal
Like I said in my post on Bridget, applying red polish can be scary because it happens that red lacquers (not Bridget) can leave a red stain on nails. Well, it is kind of the same thing when it comes to black polishes. Some of them leave a stain. Not Picture Polish Black! I used my acetone-free nail polish remover as per usual and a cotton pad. I left the latter on my nails for a few seconds. And I gently swiped it from the cuticle to the free end and Black was gone. An effortless removal that did not stain my nails.
Black is a true gem…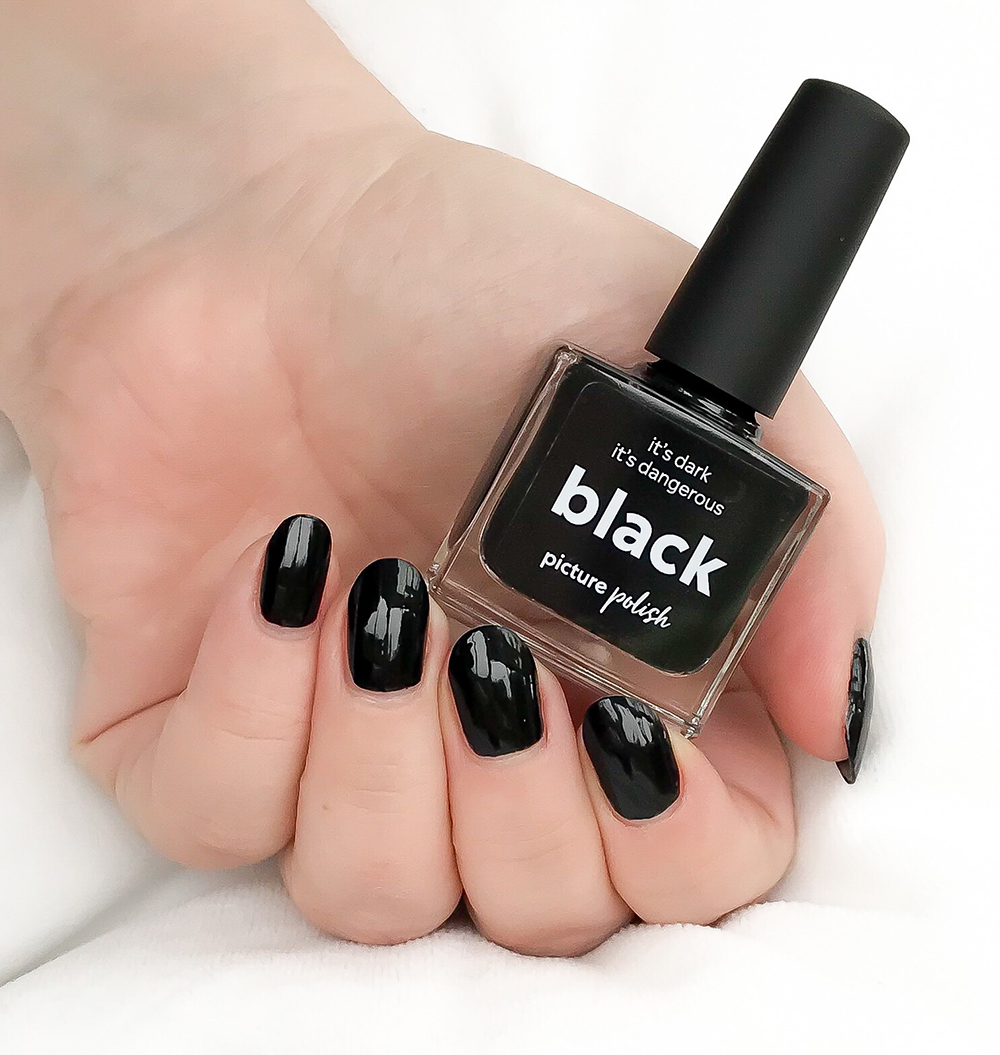 Love this color?  Shop nails now.
A little more about your Picture Polish Reviewer:
Elodie is a Blogger from France.  She has three great passions, nail polish + make up, food and books. They are all combined in one place for an interesting mix of opinion and reading.
Check out Elodie's blog  Glitter, Fork & Paper for all her reviews.
Thanks for sharing your thoughts Elodie.  The Girls xox