Hello again, PP Community! My name is Jennie Shaw, and I'm back with another instalment of the Social Series. While this blog article isn't about the nitty-gritty of posting on social media, it addresses an important topic. Because thanks to social media, the line between NPA hobbyists and NPA professionals has been blurred.
In fact, it could be argued that your social media accounts act as an evolving portfolio of your work. Tagging brands in your posts is a fantastic way to introduce yourself and your unique nail-related talent. That close contact can lead to paid opportunities, which is very exciting! But it can also feel daunting when it comes to determining rates and reading contracts. So for those who are curious about pursuing paid opportunities, I've outlined some general areas where you can turn your hobby into a career. And keep in mind there is no pressure to make this shift. Hobbies are crucial for mental health and self-care, and it's absolutely fine to keep them as such.
Meet NPA Fernanda aka @themermaidpolish she has taken her nail polish addiction to the professional level. Not only is Fern an amazing nail artist she also is a precise swatcher, content creator and influencer. Nail polish creates opportunties for those willing to dream and practice of course. Topping it off 2019 we had the pleasure to work with Fernanda in the creation of Triton nail polish her collaboration nail polish.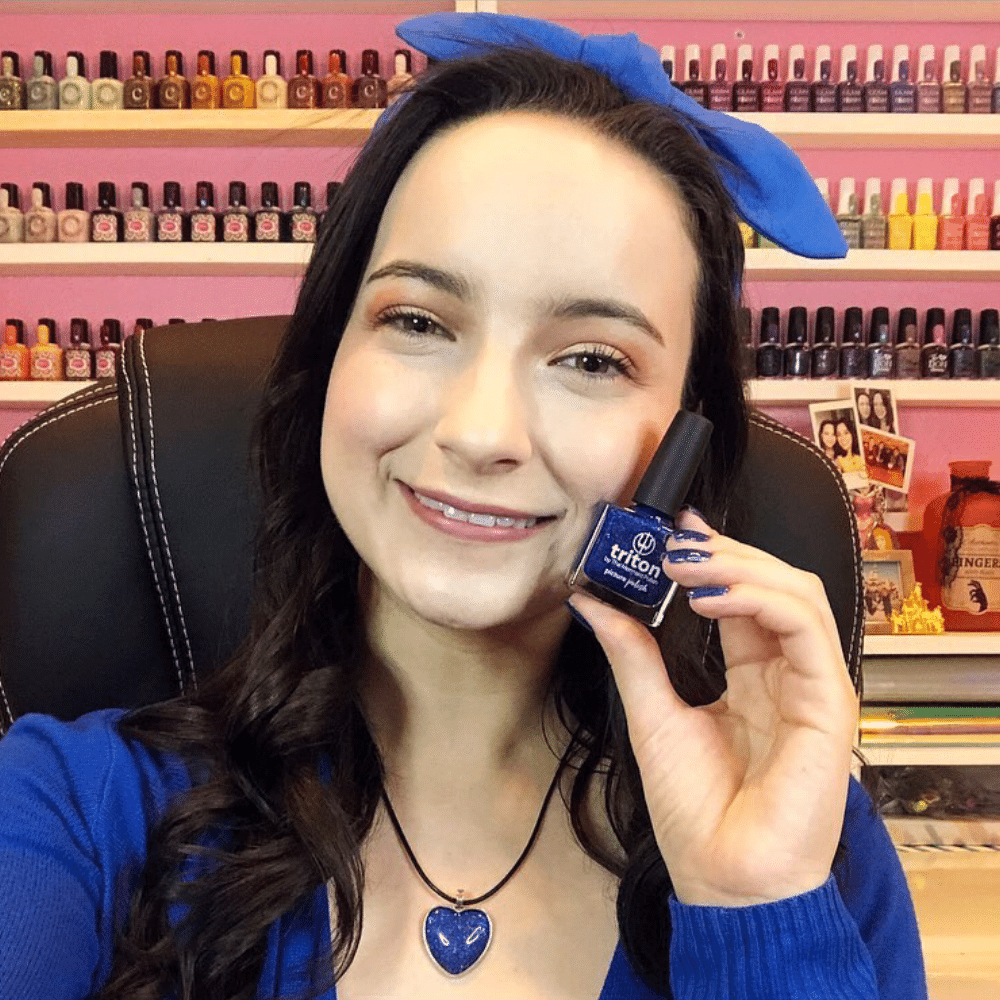 Swatcher
As the foundation of the nail world, we are nothing without swatchers. We all know the feeling. We've found a gorgeous new colour that we simply must add to our collection. A dynamic and vibrant shade that haunts our dreams until we have a bottle of our own. And then we finally sit down to try it, and the colour is far from what we'd imagined.
This is when swatchers save the day. Whether in video or photos, swatchers show how nail polish applies and how the colour looks with different skin tones. Does it need two coats or three? Or, even better, an elusive one-coater. Swatchers demonstrate the polish's consistency and how it dries with and without a topcoat. So when in doubt, find a swatcher first.
Be prepared to work if you're thinking about contacting brands to become a professional swatcher. The time requires to prep nails, push back cuticles, shape tips, and add a basecoat is considerable. And that's before any actual colour touches your nails. Times that by 4 – 12 bottles per collection, and that's a lot of painting. Of course, there are some tips and tricks—like PP Peel-off base coat—but you'll need time to experiment and learn.
But the upside to all of this work is the swatching bonus of free nail polish! Not just free nail polish, but the scoop on the latest colours and trends. And while you may not be able to show them off before release, it's fun to be on the inside of the nail world! And this is probably one of the fastest ways to grow your personal polish collection. Perks, a-plenty if you want to become a professional swatcher!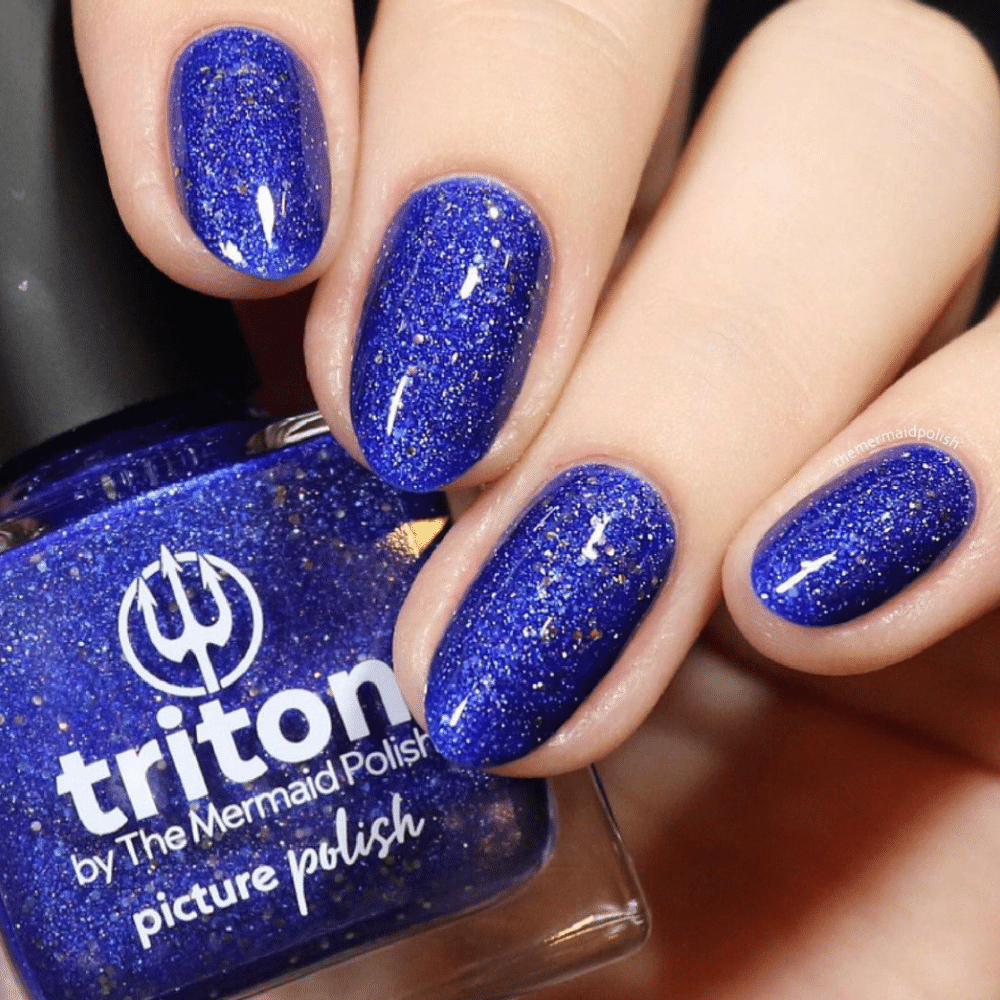 Nail Artist
Nail art has two broad avenues: freehand and stamping. For freehand nail artists, the sky is the limit regarding what you can create. Your arsenal of tools likely includes too many brushes, dotting tools, maybe some toothpicks, and probably foil or chrome powder.
Stamping nail artists use similar tools and require stamping components like plates, stampers, and specialty polishes. Regardless of how you create nail art, there are enormous opportunities for nail art hobbyists to start a career.
Brands are always on the lookout for new talent to help spread the word about upcoming collections. There's room for everyone's designs, from subtle abstracts to florals and intricate portraits. Because art is subjective, it's vital to first and foremost love what you're painting. Nail art is a labour of love, especially when using traditional polish, which dries quickly. And like every other nail career, there's lots of work involved before any paid opportunity. With consistent practice and some luck—while actively sharing your work on social media and tagging companies—you can take your nail art hobby to new heights! Plus, you'll get loads of new polish to incorporate into your designs. Seeing your work featured in a campaign is also quite the serotonin boost!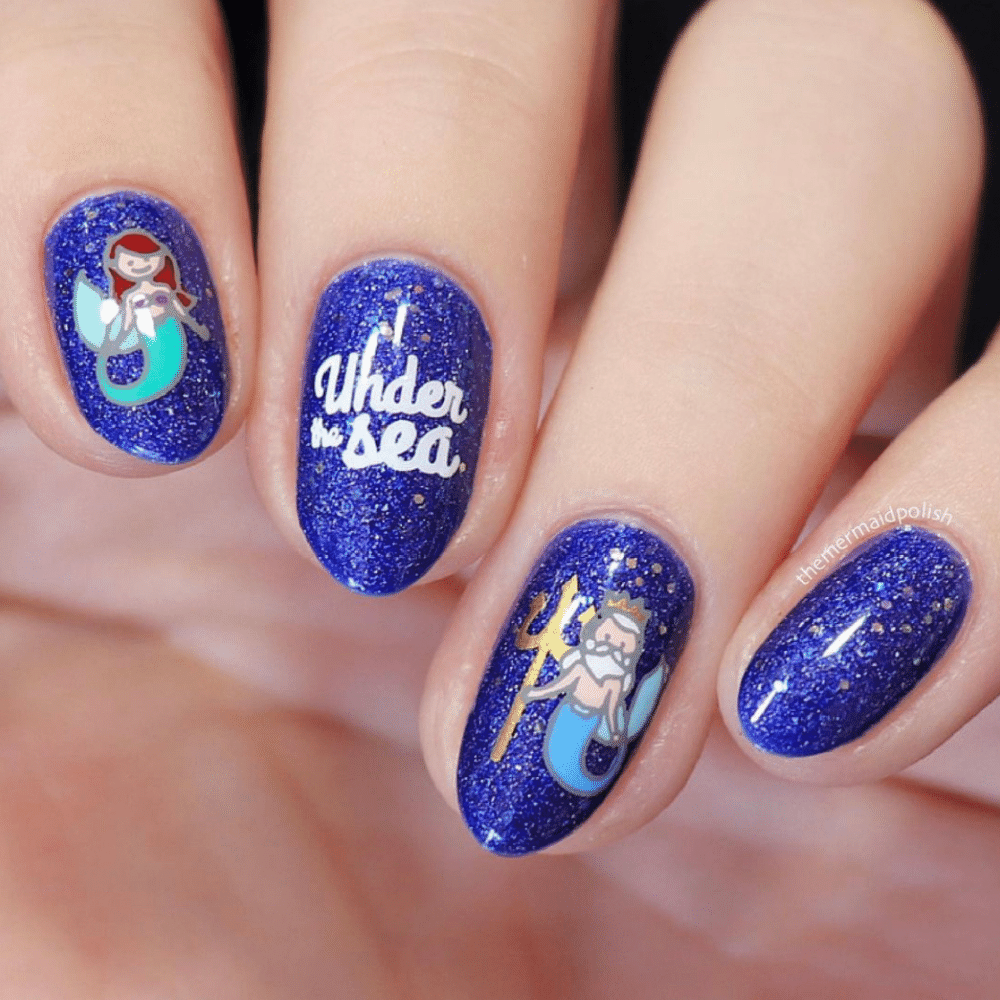 Content Creator/Influencer
Do you love being in front of the camera? Showing off new products? Creating dynamic social media posts? Then being a content creator or influencer may be a way to turn your nail hobby into a career!
It's all about excellent lighting, stunning aesthetics, and, of course, nails! Content creation can include a reel showcasing a new collection or a nail art tutorial featuring themed art and accessories. Sometimes this also means following trends to create cute and engaging content that's short and to the point. And, first and foremost, fun! Your personality plays a big part in regards to influencing. Being honest, vulnerable, showing your quirks, and having a good time are all part of the job. If you love what you're doing, it'll shine through.
Bloggers
As a surprise to almost everyone, blogging is making a comeback. This return to longer posts has many opportunities outside of social media content creation. Bloggers can go deeper with reviews and recommendations with ample room for text. Unlimited pictures and fewer restrictions on how to display them also mean greater control of your content.
There are unique ways to make a career for the niche audience who prefers to read in longer form. Sponsored brand content fits well into blogging with the added plus of direct links to product purchasing for commissions. Not to mention selling advertising space, should your following become large enough. Like all other careers, blogging takes hard work, as there's an expectation of being thorough. Being able to design your blog is fun as well, which helps bloggers deliver solid branding. Branding helps considerably in the long term and helps get your name out there. Hosting fees may also apply to blogging, which is good to consider.
Nail Technician
Aside from online opportunities, another way to turn your nail hobby into a career is to become a nail technician. There are different requirements for becoming a professional nail technician, depending on where you live. That can include taking courses to become certified or an exam to become licensed. Countries, provinces, and states can differ, so you'd have to research requirements.
Regardless of becoming certified or licensed, the base information in nail technician school is often similar. Anatomy, sanitation, nail care, acrylics and overlays, and other course material will prepare you to take clients safely. Tuition can be steep, but it's the only way to become a nail tech. Being able to spread joy through nails and see your work on other people is an incredible reward. Plus, you get access to nail wholesalers, which is pretty fun!
Nail Enthusiast
Maybe you aren't much of an artist. Your life is busy, and you prefer to relax in the short time you have to yourself. Or have health reasons that make painting nails too overwhelming. But oh boy, do you love treating yourself to a mani once in a while!
If this sounds like you, then you're a nail enthusiast, and this industry wouldn't exist without your support. I'd even argue you're the most essential element of the nail business! If not for nail enthusiasts, there would be no new colours, no shares, no likes, and no clients. In essence, we'd be lost without nail enthusiasts who appreciate the time and skill that goes into a killer set! So three cheers and a standing ovation for nail enthusiasts! Keep up the great work.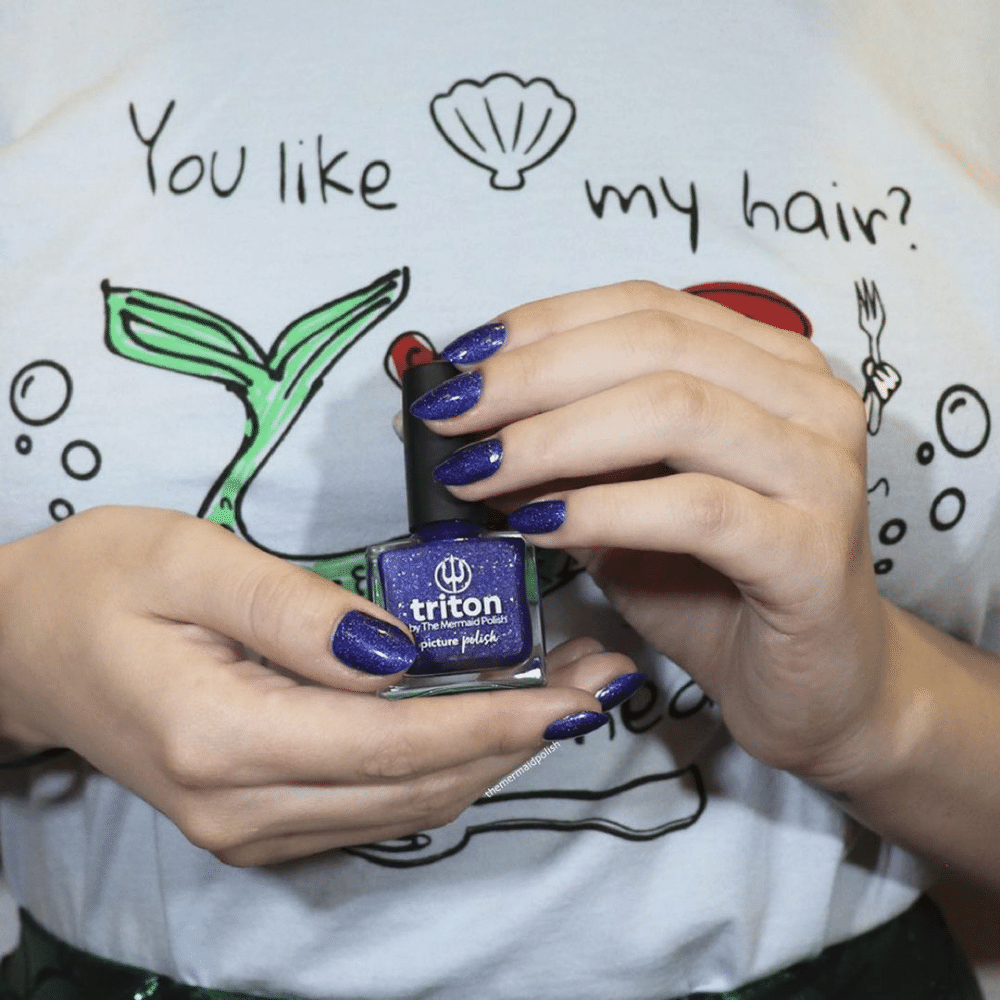 Professional Pep Talk
I'd like to discuss one final subject about turning your nail hobby into a career. Should you be approached for paid content, please charge what you're worth. People feel strange talking about money, but that doesn't empower artists and professionals. Generally speaking, content in exchange for "exposure" takes advantage of creators. Your skills took time and practice to refine, and video and photography equipment is expensive!
Additionally, think about how the brand/company/organization wants to use your content. Are you posting on your own social media that will be reposted by the brand? Are you guaranteed credit and tagging? Is the work for an online store to increase sales or a print magazine with national distribution? These are aspects that you need to consider before determining your rate.
And if you sign a contract, please remember to read every word. There's no other way to determine the expectations and if you want to fulfill them. By reading the contract in full, you'll be able to decide whether you want the job or not. Don't be afraid to walk away if your gut feels that something is off! Or if the job isn't quite how you imagined it. Contracts are often standard boilerplates, which means there's room for adjustments. So please feel confident when asking for changes to protect your work or fine-tune the terms. Remember that you're amazing, and if someone is coming to you for content, it's because you're worth it!
We hope you've found this post helpful, and we wish you luck on any professional nail opportunities in your future. Head over to Instagram and share your dream nail career in the comments! We'd love to get to know you better. And remember to tag @picturepolish so we can see your fabulous nails!
Jennie Shaw is a writer and freehand nail artist. She is also an avid reader who pairs cover-inspired manicures with book reviews. Her work has been featured in Modern Salon, Nails Magazine, and on Goodreads. She lives in the Canadian countryside and can be found on Instagram @jennieshaw  Connect with Jennie on Instagram here.