Hello, Picture Polish community! We recently hosted a nail art challenge with the theme of "minimalistic nail art with a twist." There were ten categories to choose from, and participants could use 2-5 Picture Polishes, in addition to white, black, and the topcoat of their choice. We were amazed by the talent and creativity and wanted to highlight all the different interpretations. Without further ado, let's see your marvellous minimalist nail art ideas.
Linework
Linework designs are always crisp and visually exciting, and we're amazed by this mani from @nailsbyabagail. No two nails are alike, yet they work incredibly well together. We also appreciate Curious and Merge nail polish's soothing neutral earth tones. And, of course, we love the matte topcoat! It completely changes the appearance of holographic polishes and gives off a sleek appearance.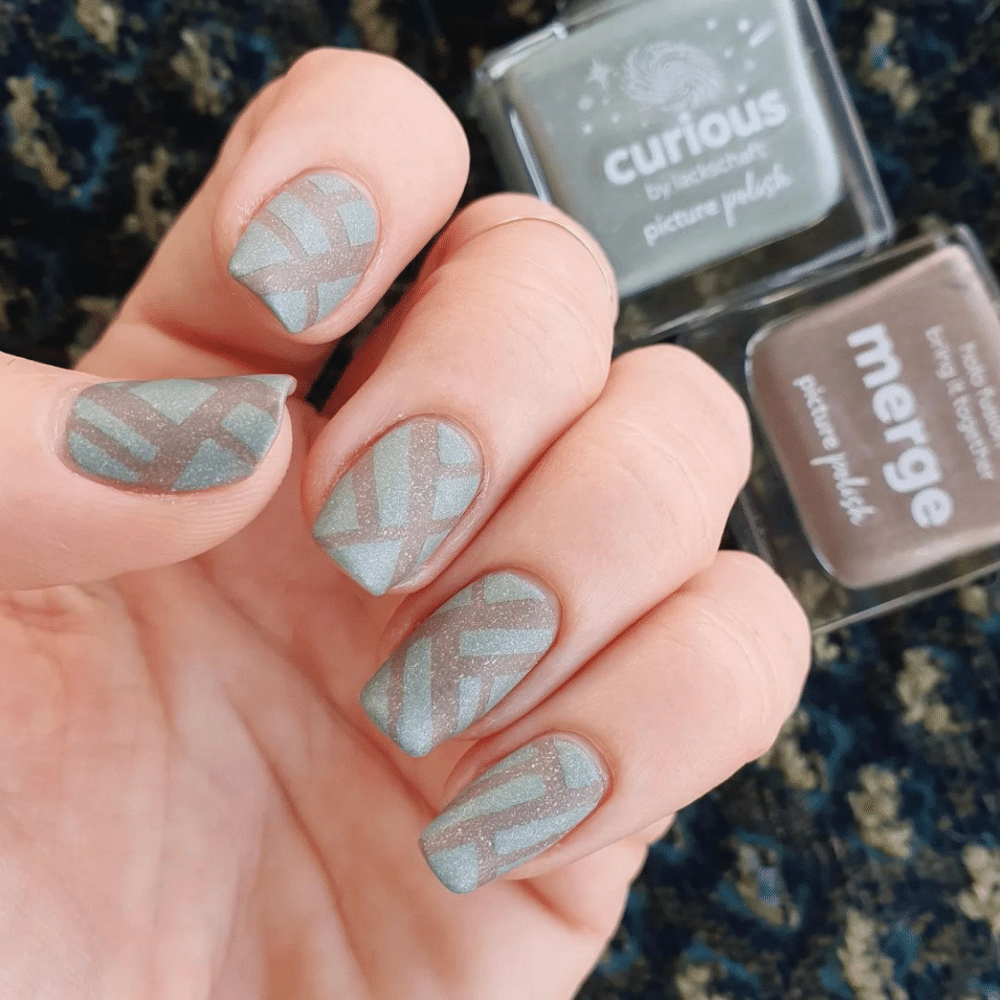 Gradient
Gradients don't have to be the entire nail, which @nailsdpassion shows here with her bright and cheery mani. The blend of pinks and yellows is super cute for spring, and the checkered gradient is beautiful! Nails don't all need to match either, especially for minimalist designs. There's so much to look at in this mani, and we can't tear our eyes away. And why would we want to? New York and Pooh nail polish glow in the sun while Coral Reef is a stunning accent.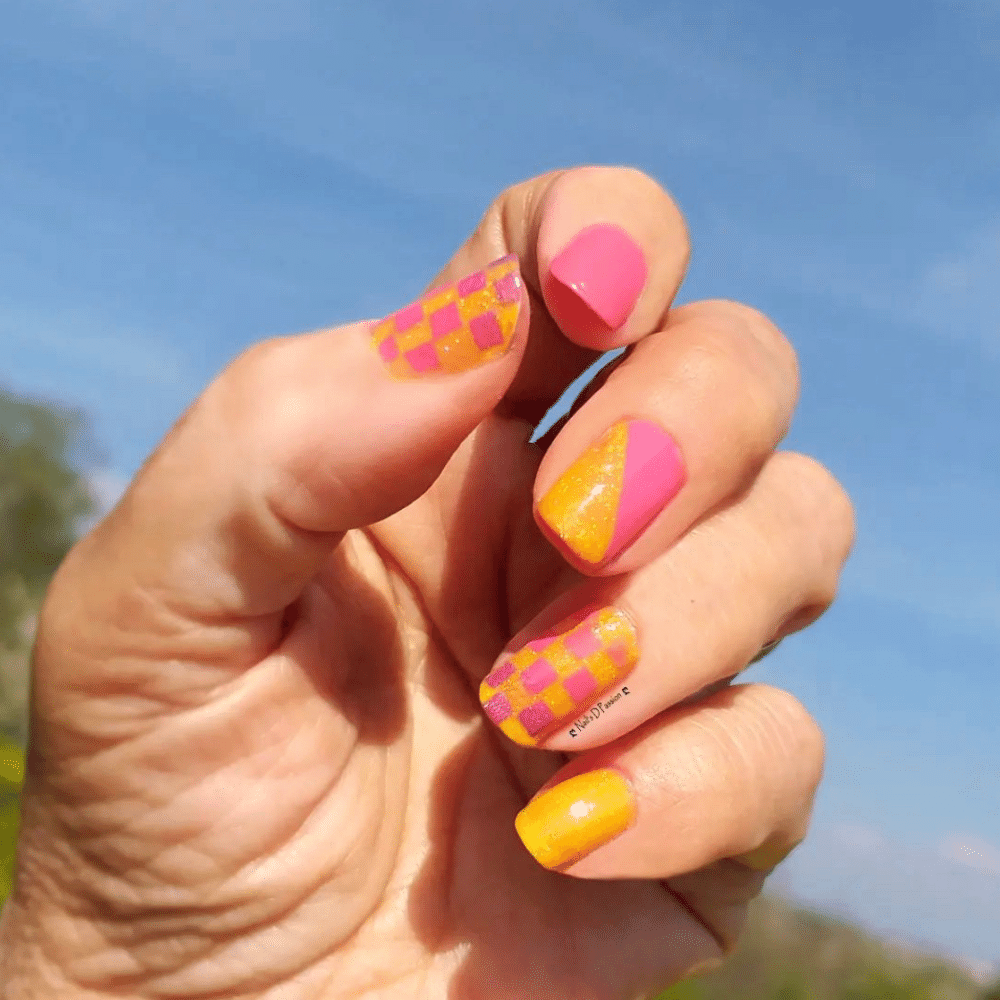 Springtime is in full effect with this astounding gradient from @mariasnailartongles! Opting for a diagonal gradient increases the difficulty, and we're amazed! With impeccable blending techniques, Maria used Cherish, Dandelion, and Paris. The pop of pink at the tips is phenomenally beautiful, and all of the holographic elements sparkle and shine. Such a fun and simple design for this minimalistic nail art challenge!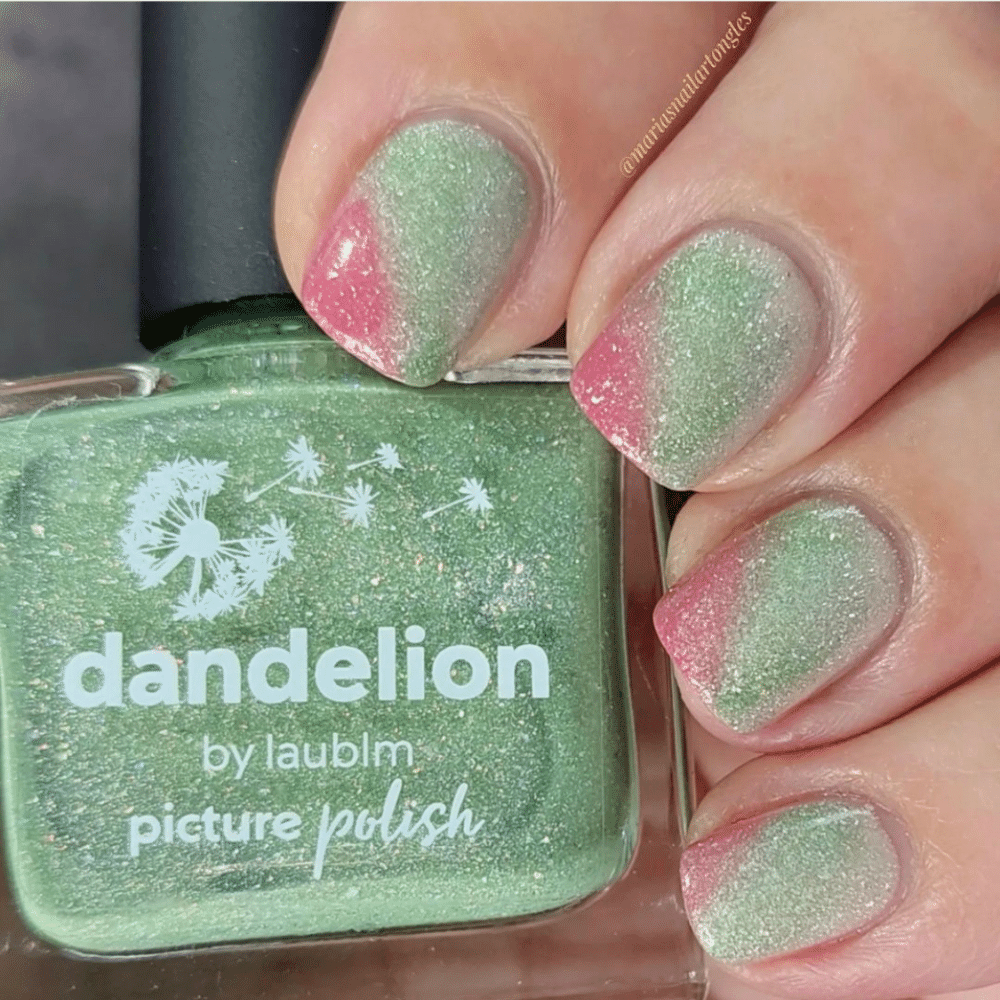 @myrykneito's gradient is a neutral knockout! Using a sponge to create the gradient brought out the greyer side of Heaven. Such a versatile polish! And because Silence and Lakodom also have holographic elements, the whole nail sparkles in the sun. We imagine it would be hard to focus on anything when rocking these nails!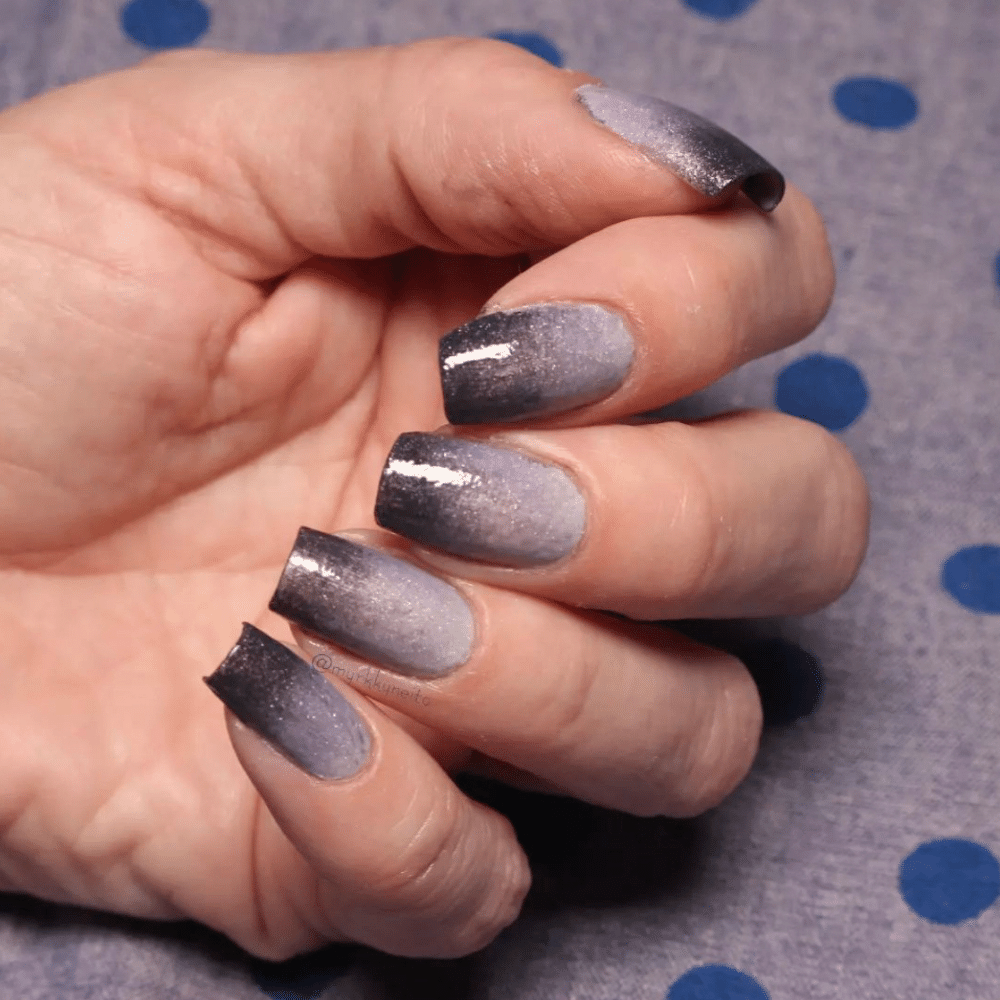 Skinny Tips
A skinny French tip is a chic way to modernize this nail art classic. @jennieshaw leaned into metallic finishes to contrast the skinny black tips for her entry. Opting for a pointed center gives more shape to her nails and the illusion of almond tips for shorter nails. The base colour of Bardot nail polish is a soft beige, packed with sparkling holographic elements. Choosing metallic polishes like Stamped Silver, Stamped Gold, and Free for the cuffs adds glamorous variety. And boy do we love them!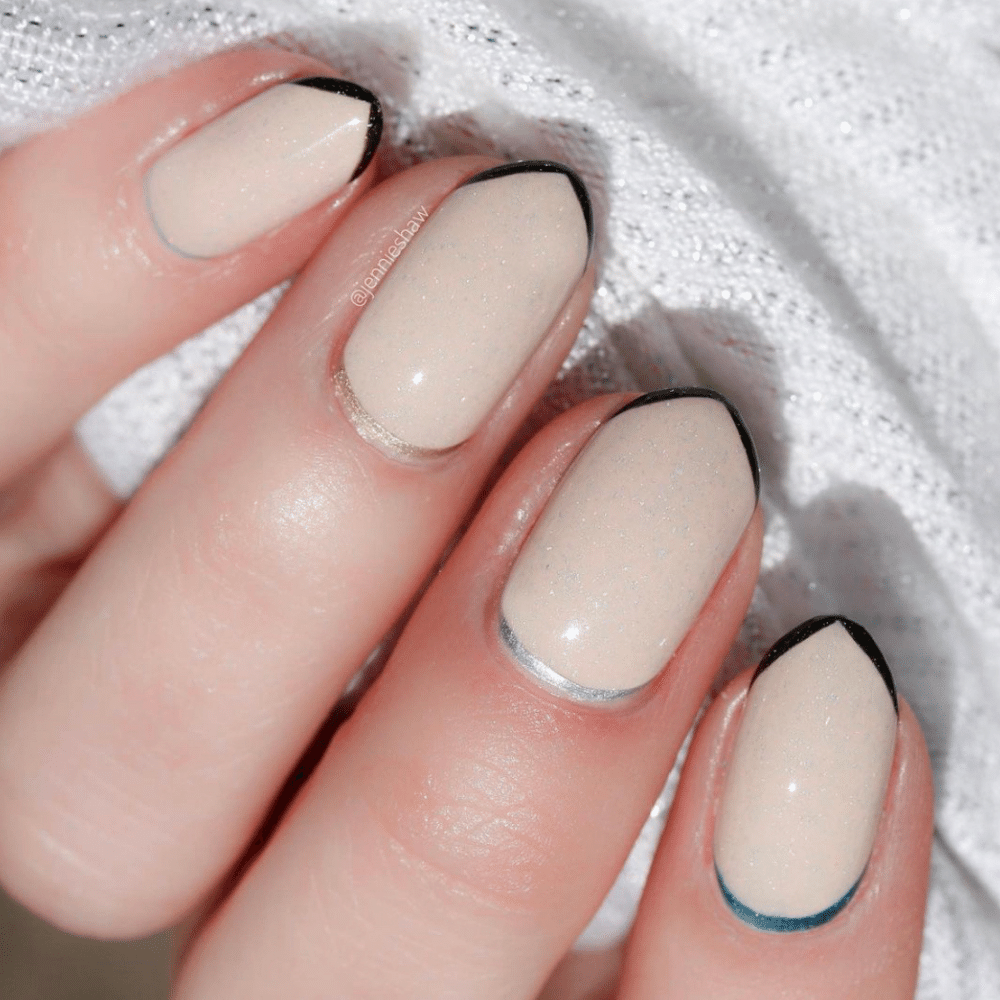 Cuffs
Something about a minimalistic nail art cuff makes our eyes turn into hearts. Just look at this mani from @cranberry_lollipop! Using Lilac as a base, the matte top coat gives the pastel purple an edgy twist. And the darker purple cuffs painted with Boho nail polish are a fitting compliment. Especially as Boho is a rich crème which plays off the black micro-glitter in Lilas. All in all, this mani is a shining example of minimalistic nail art with personality!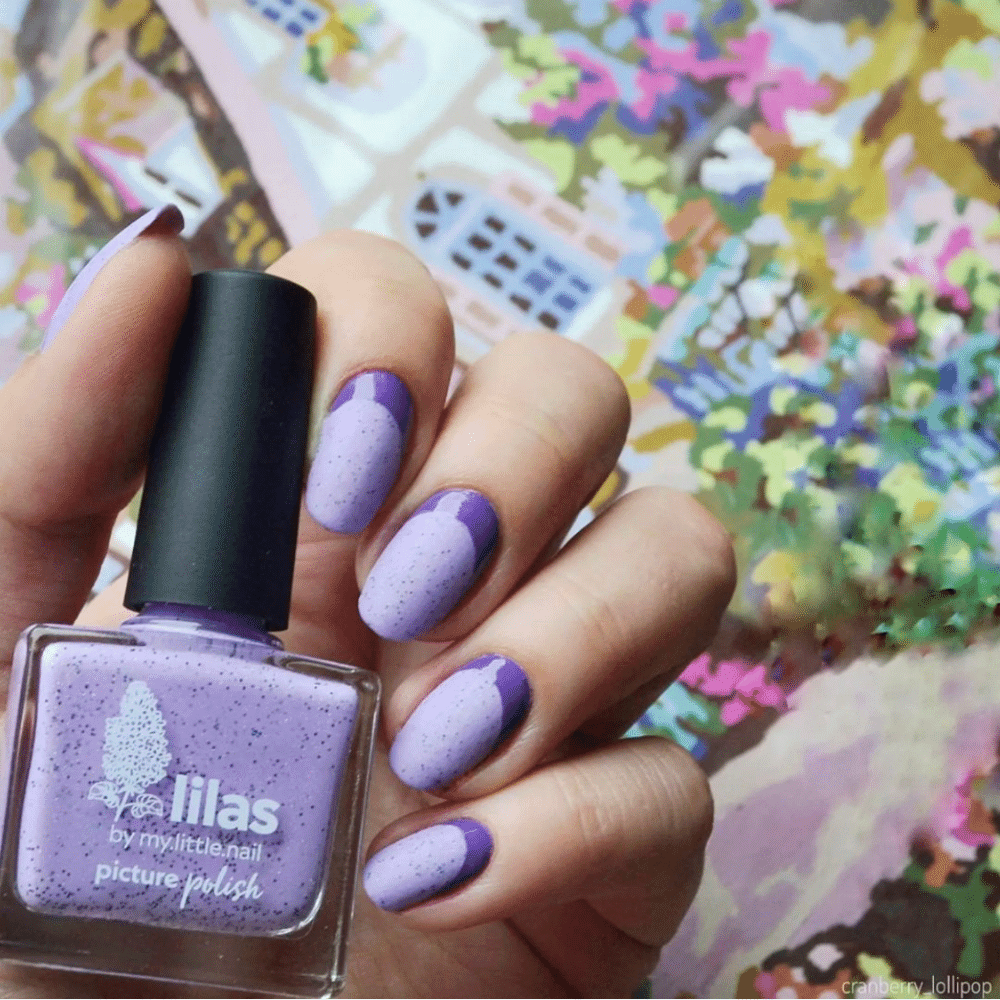 Swirls
Swirl nail art is all the rage right now, and for good reason! Beige nail polish is a fabulous choice for minimalistic nail art because it's softer than white while allowing for gorgeous colour contrast. Swirls are fun to paint, and @mullemaus1281 used Be Creative, Selena, and Family for some holographic awesomeness. Freehanding lines can be intimidating, and using The Liner Brush can help smooth out your work. We just love how these colours look together!
Subtle swirls in pastel colours? Yes, please! We can't get enough of this minimalist swirl design from @kathagraphie. Soft and delicate, Beige nail polish again shows off yet again when it comes to neutral base colours. Adding the lines in Mind, Clouds, and Community create a stunning combination. The bit of colour goes a long way and looks incredible on her enviable oval nails.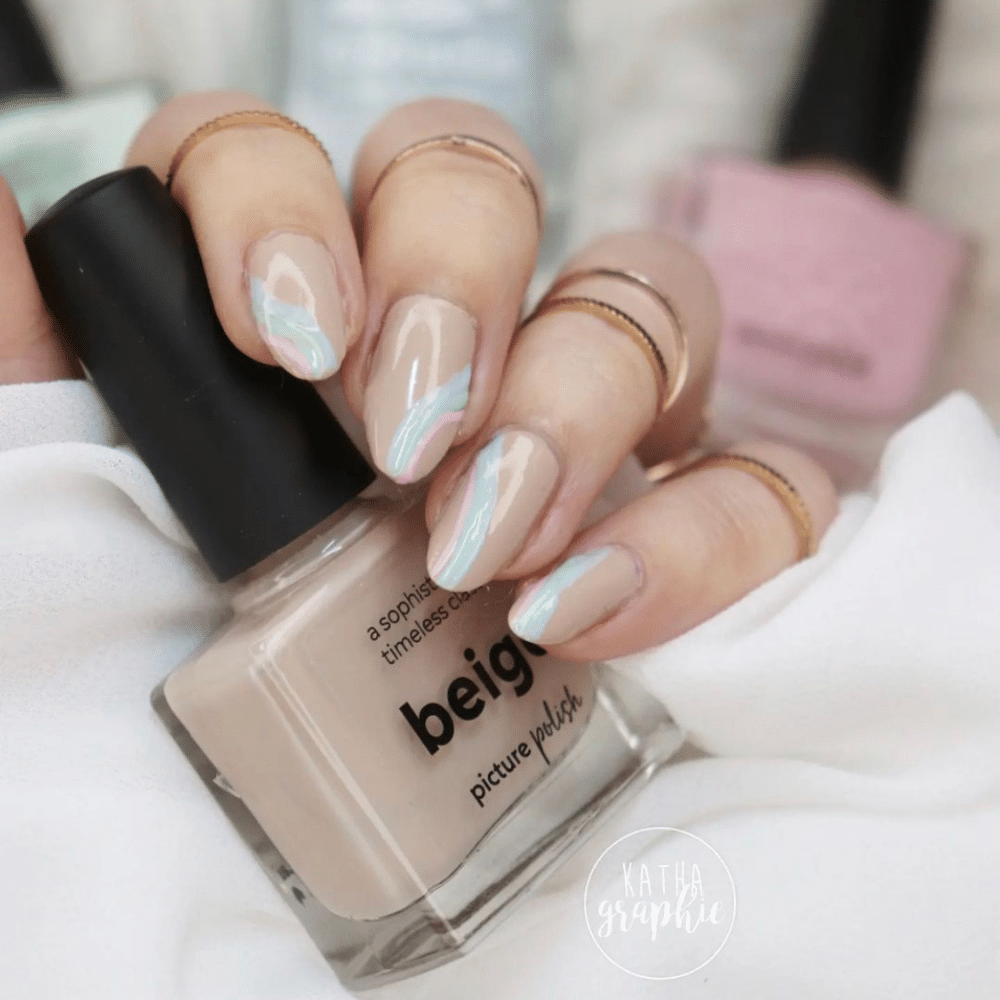 Talented minds must think alike because we've noticed a trend in this challenge, which is negative space. And of course, we love it! @thesuziem uses a simple colour pallet to achieve a perfect minimalistic swirl. The twinkling holographic in Vibes nail polish's light grey base pairs beautifully with Glacial's darker blue. Highlighting two feature fingers with swirls in different directions adds even more visual interest!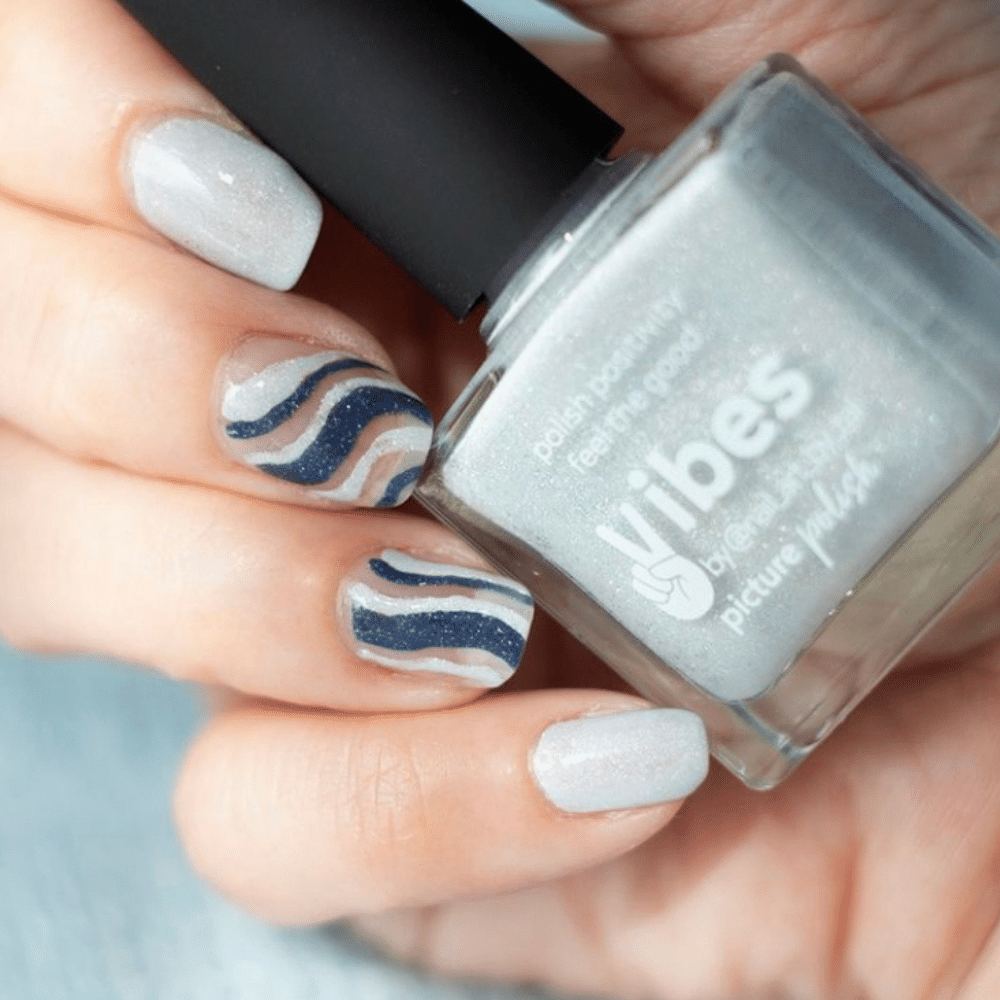 Duochrome polishes add incredible dimension to nail art by shifting colours depending on the light. This swirl mani from @janinesnaildiary may appear to have upwards of four different colours, but they're from only two polishes. Beetle nail polish shifts with reds and golds, while Serendipity includes teal, blue, and purple. The metallic finishes gleam on top of the black base, especially with a matte topcoat. We love the two different styles of swirls as well—such creativity!
Spring swirls have never looked so cheery with this entry from @nailpolishbyella! Inspired by a bright pink tulip, she used New York, Selena, and Lucky nail polishes. Keeping the swirls to one side of the nail is super cute! And the subtle gold pops from Lucky nail polish add even more dimension. Nature can be a huge source of inspiration, and we just adore the colour scheme of this mani!
Watch out because @rums2016 is bringing in the heat with this red-hot manicure! By using a swirl technique and colour blocking, these nails are sure to steal any spotlight. Blessings' creamy and dynamic base coat features holographic elements and black glitter, which are glamorous on their own. Thanks to the neutral base, Love nail polish is bright, bold, and beautiful. And adding Brassy for the linework is a fashionable alternative to black.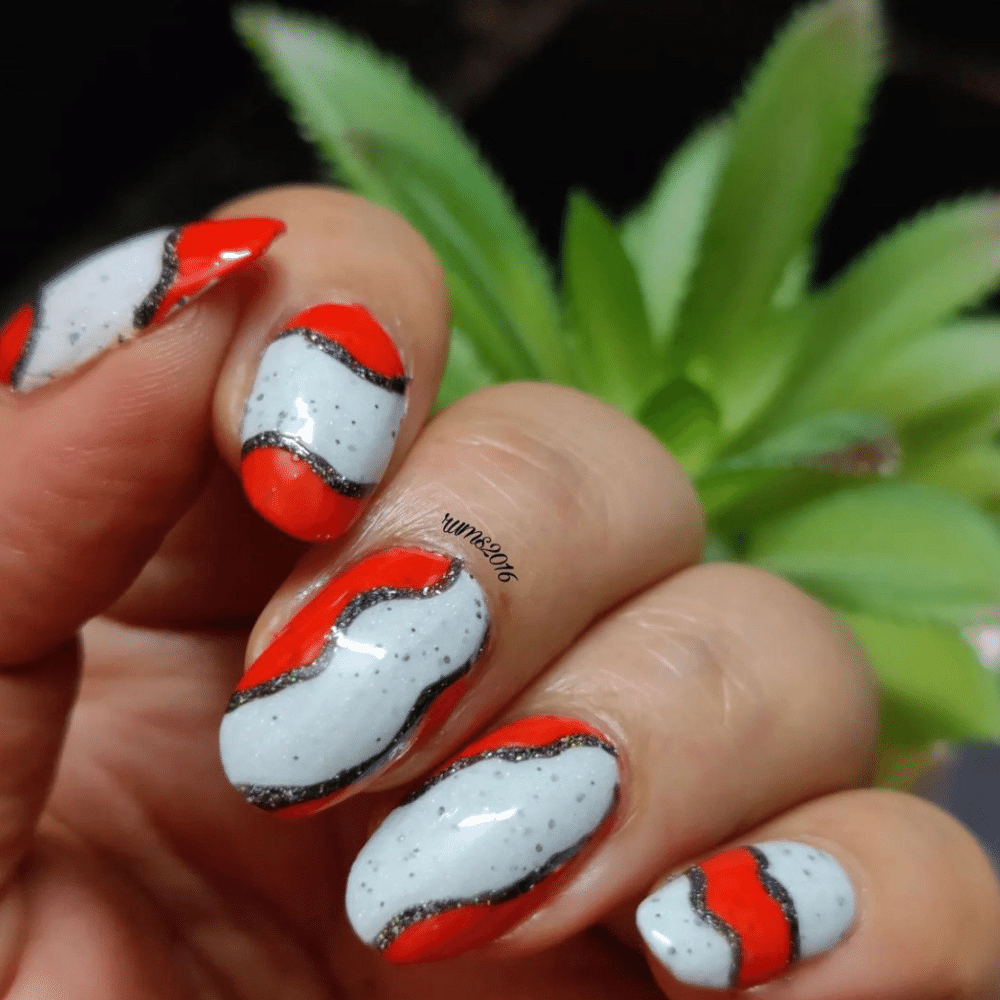 Chic and clean are two words to describe the swirls @rubensanails painted for her entry. Pairing Kryptonite's deep green holographic with the lighter teal of Tiffany creates a soothing colour palette. We love how she used negative space for the swirls as well. Such a sophisticated twist on minimalistic nails! Less certainly is more with this manicure, and the design shows off her enviable round nails.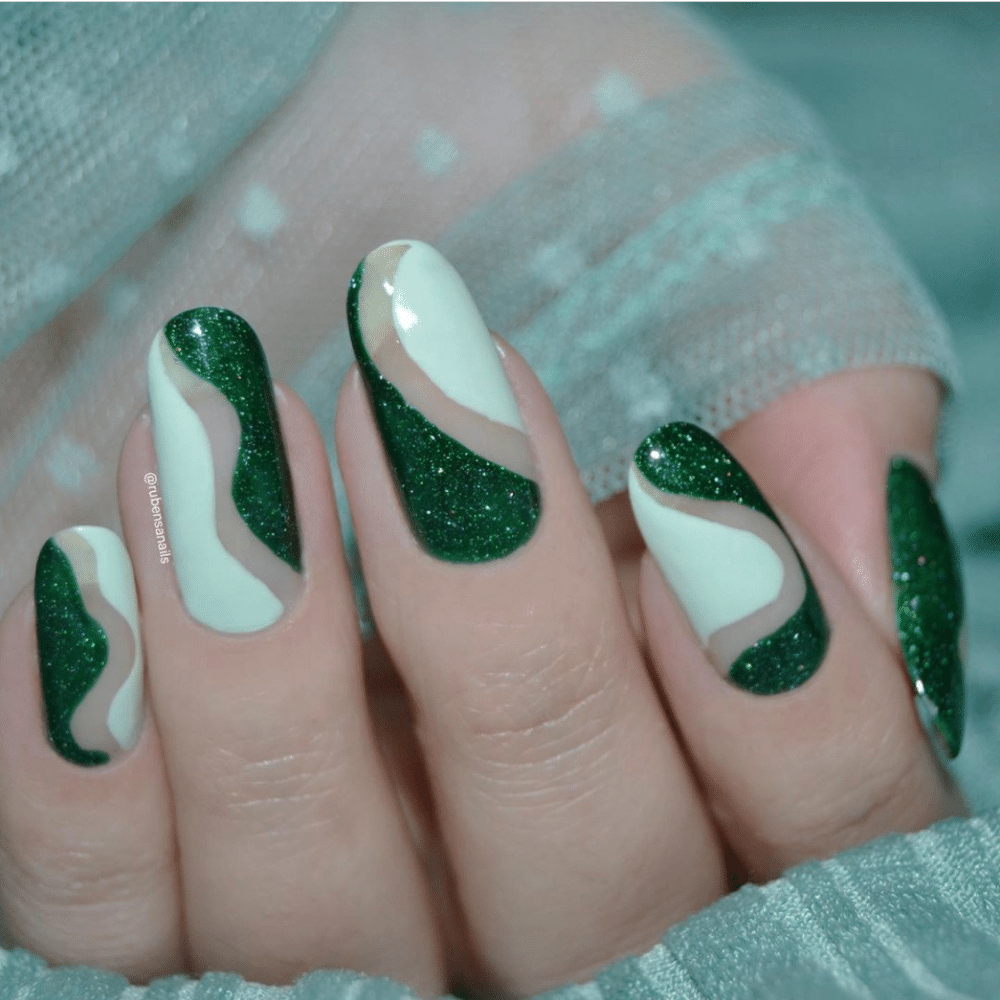 Dry Brush
@hefersanja used a dry brush technique for her stunning Easter manicure. Minimal nail art is a challenge for Sanja, and she absolutely nailed it. Beginning with the soft blue of Surf nail polish, she added Blue, Pinkie, Korma, and Limelite. This manicure shows how typically underused colour combinations like deep yellow and neon green can work splendidly together.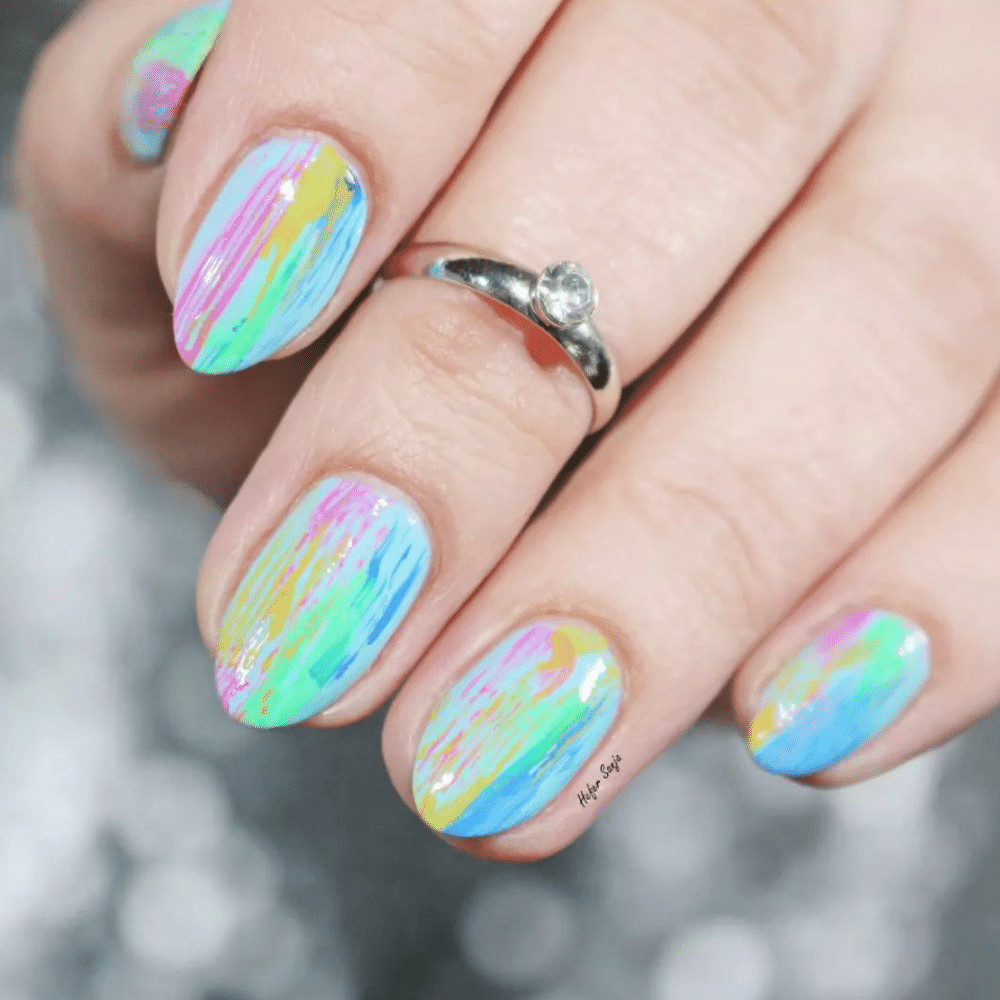 The beauty of dry brush manis never ceases to amaze us, and we love this bright and bold entry from @mina.who! Bright White polish serves as a clean and crisp base colour to help the colours pop. Not only that, but the varied brushstrokes add even more stylish flare. In addition to Bright White polish, she used Pooh, Macaron, Kitty, and Evergreen. Such a fun design!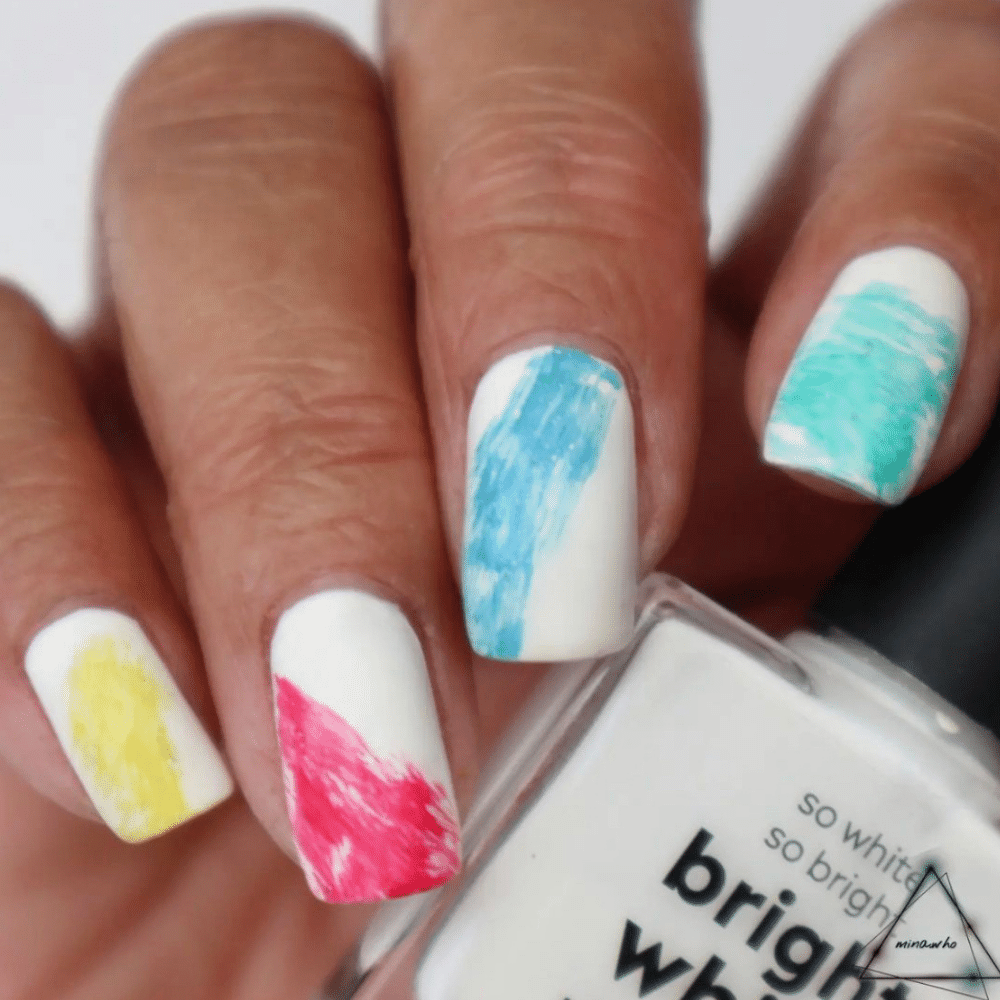 Sophisticated and bursting with personality, this mani from @sabstyle_nails brought a smile to our faces. There's just something about red nails that suit every season. The layered dry brush technique allows for each colour to sparkle in the sunlight for the minimalist design. Including warmer shades like Macaron, Brave, and the cooer-toned Superior and Innocence creates a luxurious balance. We'd wear this design any time of the year!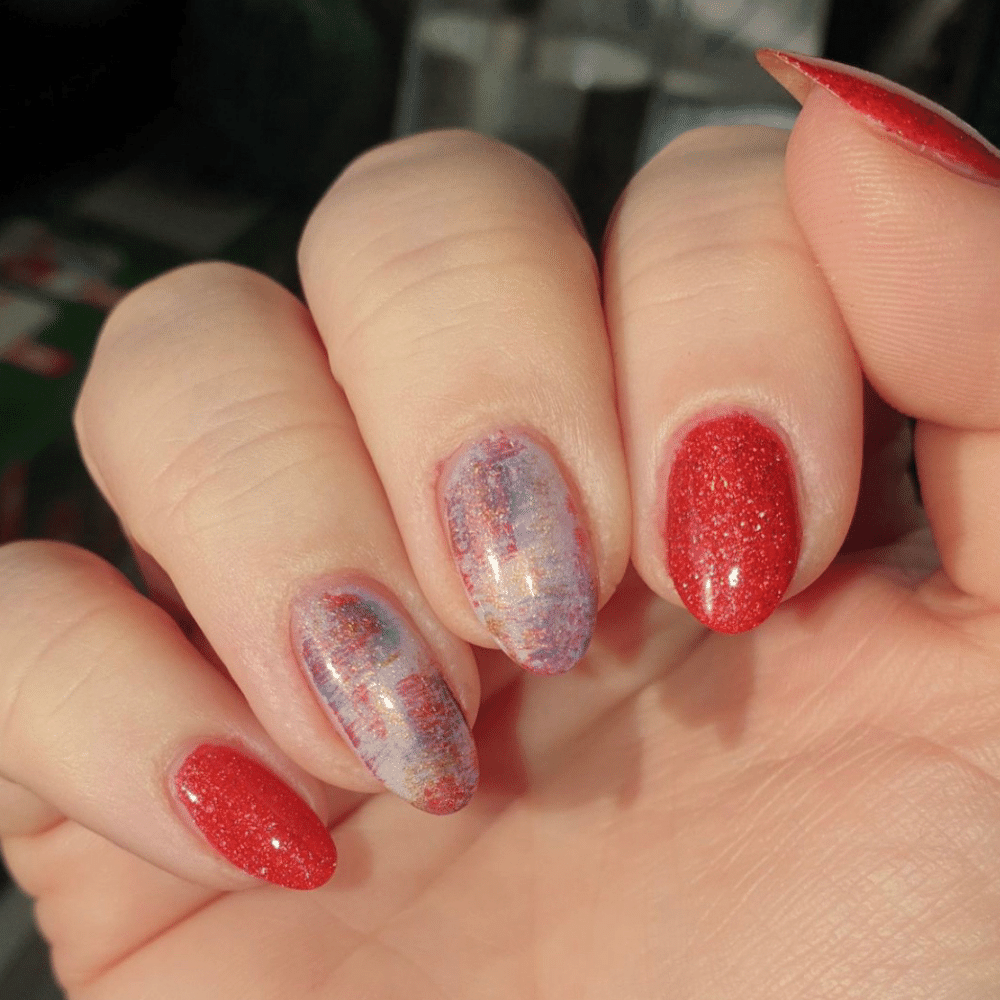 Abstract
Anything goes with abstract nail art ideas, and @geolena_koski created a truly spectacular design. Including contrasting tones of similar colours is a simple yet striking method for minimalist nail art. The black glitter from Dijon, Lilas, and Cats nail polish adds extra oomph, and we adore it! And what's not to love about the deep purple holographic of Horcrux? Such a glamorous abstract mani!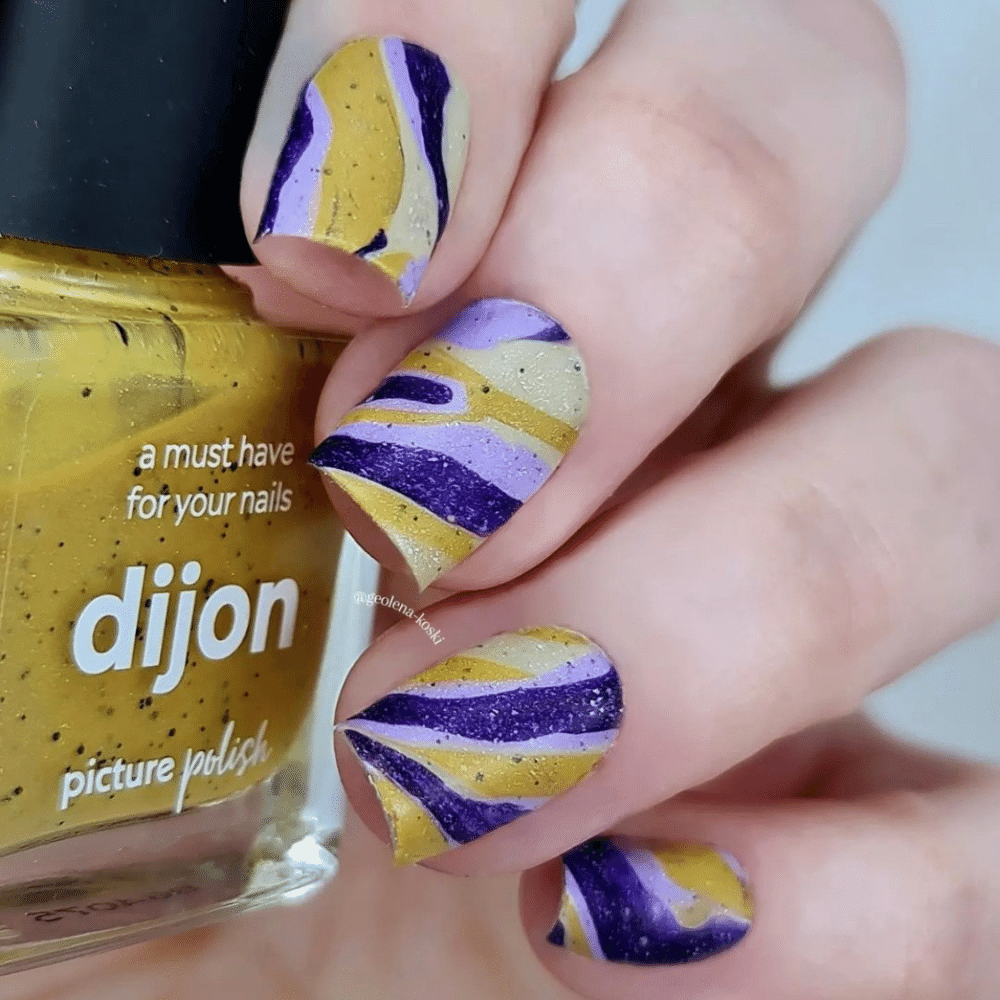 Abstract and bursting with colour, we can't stop staring at this mani from @elonailsandco! Whimsical and bold, Èlodie used Sorbet, Eternal, Flirt, Marine, and Blue nail polish. Taking the minimalist theme even further, she painted her details on naked nails. The inclusion of negative space makes this look even more modern. Abstract but organized, we love the symmetry and pattern!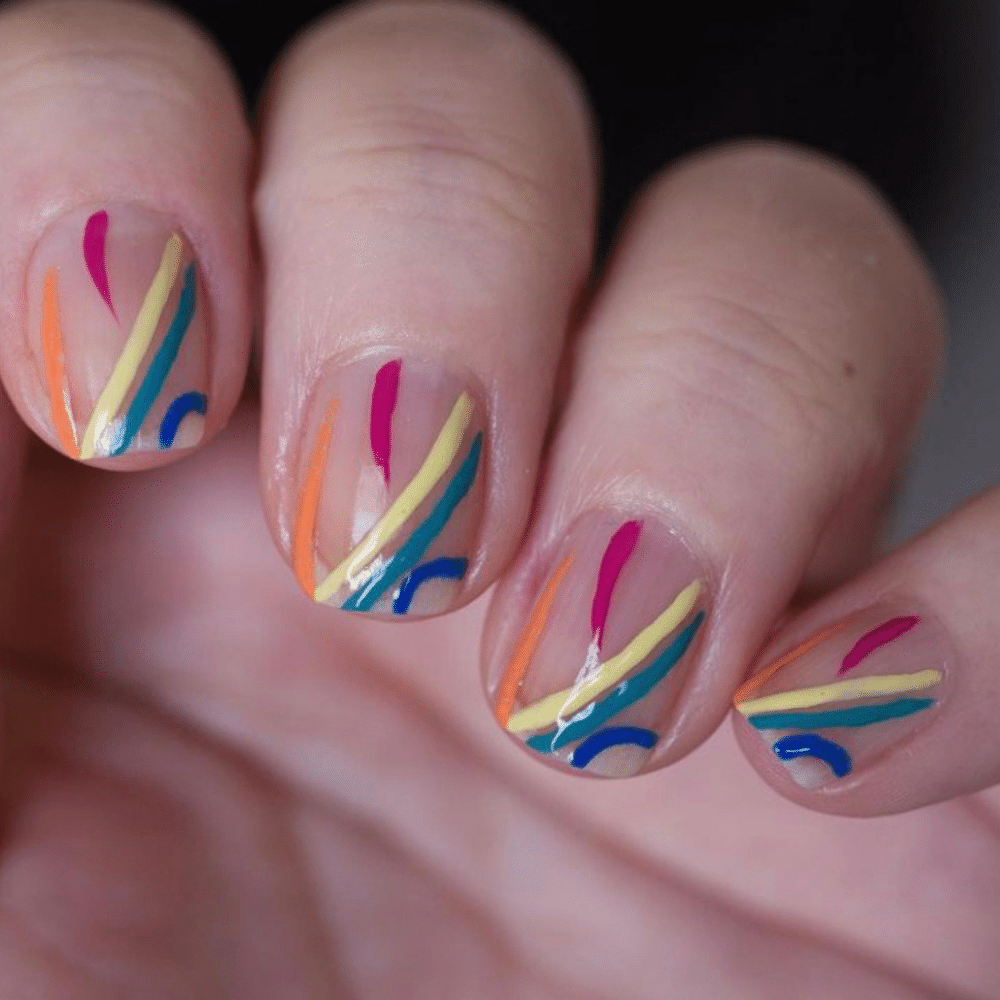 This abstract mani from @nail_paintings_by_rupa is giving major beachy vibes! She took the bottle slogan of Ariel to heart and painted these gorgeous waves! Using Faith for the foam and Ariel for the water gives this mani a dynamic and beautiful layered effect. And we can't believe these were done freehand! The adorable fish stud and negative space base absolutely nails the theme of Minimalistic With a Twist!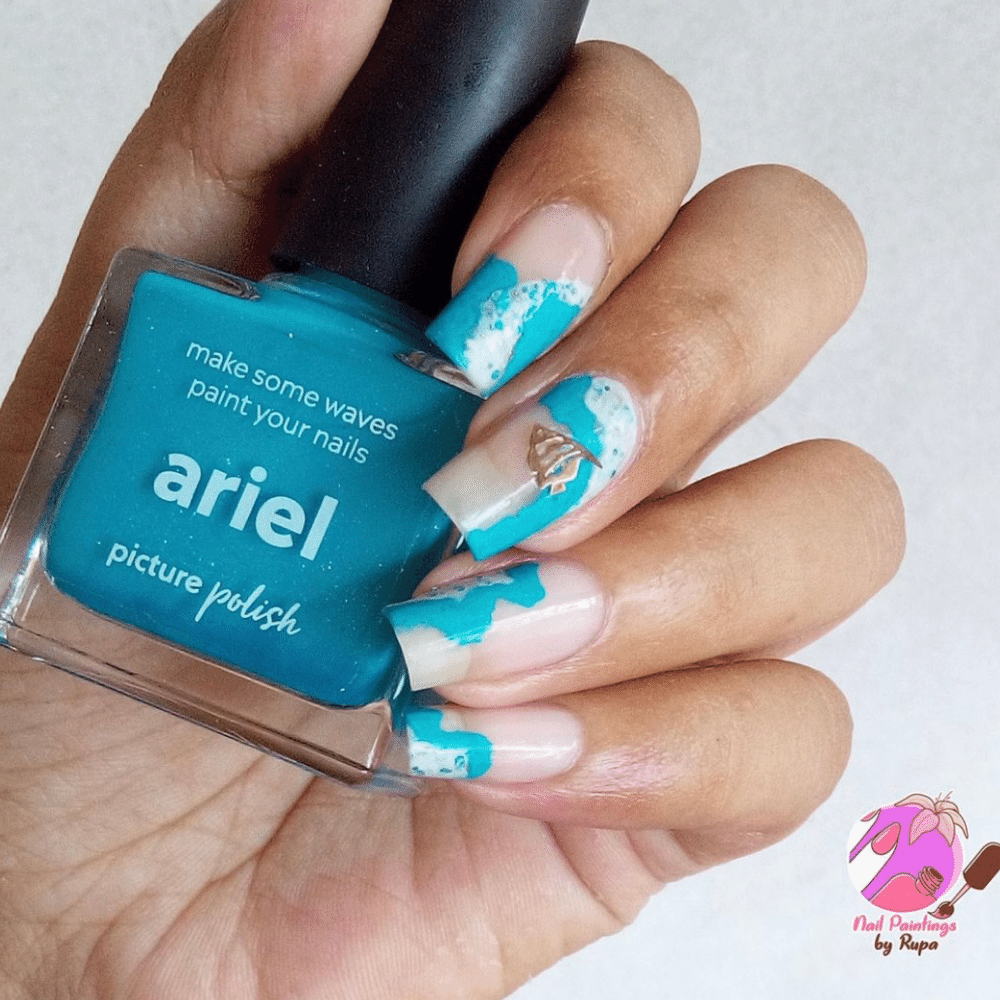 Stamping is a fun and quick way to add nail art details, and on top of an abstract design, it's positively gorgeous! Vogue nail polish is a showstopper of golden rainbow holographic that catches every possible ray of light. As such, we love the inclusion of Triton and London nail polish! The blue tones work well together, especially underneath the black stamped flower. Another eye-catching example of minimalistic abstract nail art by @polish_star.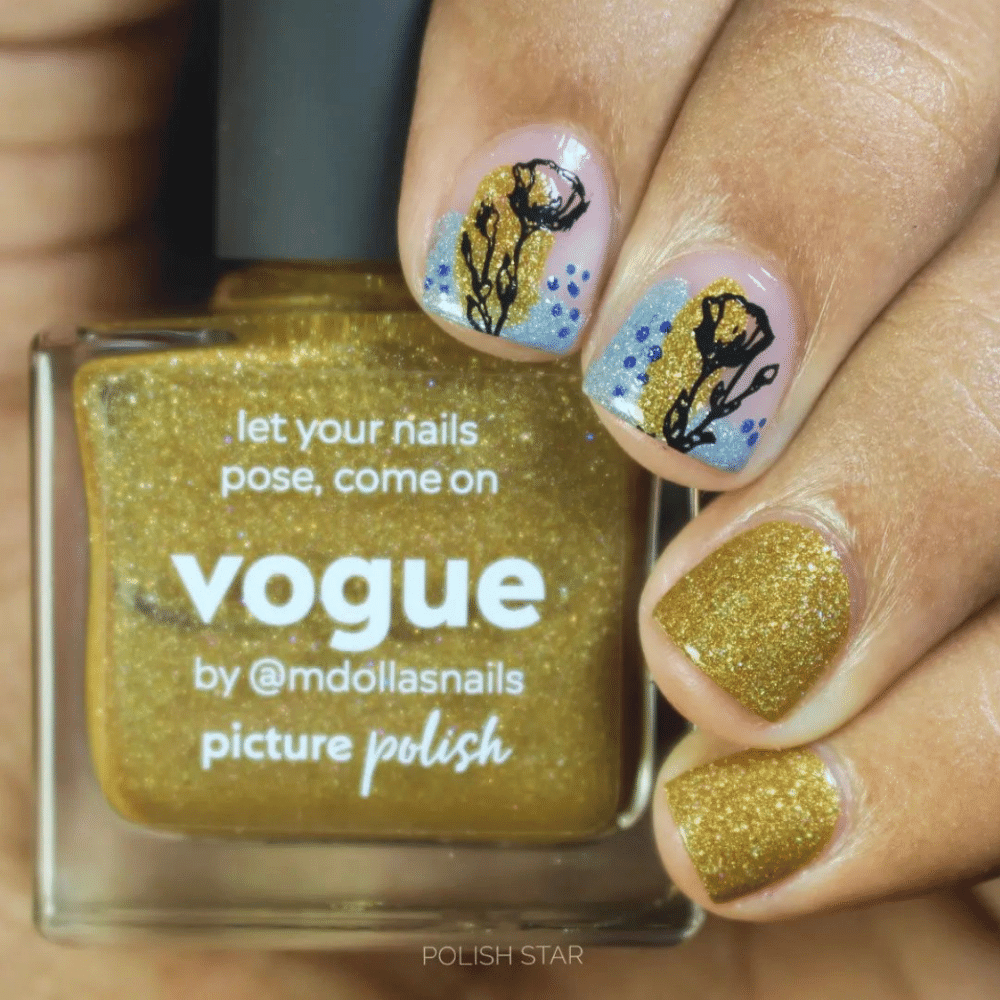 Landing somewhere between abstract, gradient, and swirls is this terrific teal-toned manicure from @alisonsworld. Beginning with the darkest teal around the outside of her nail and working inwards creates such a gorgeous silhouette. Starting from darkest to lightest, she used Neko, Meow, Curious, and Succulent. All four polishes work well together as a monochromatic colour scheme and holographic pops. We love how creative this community can be!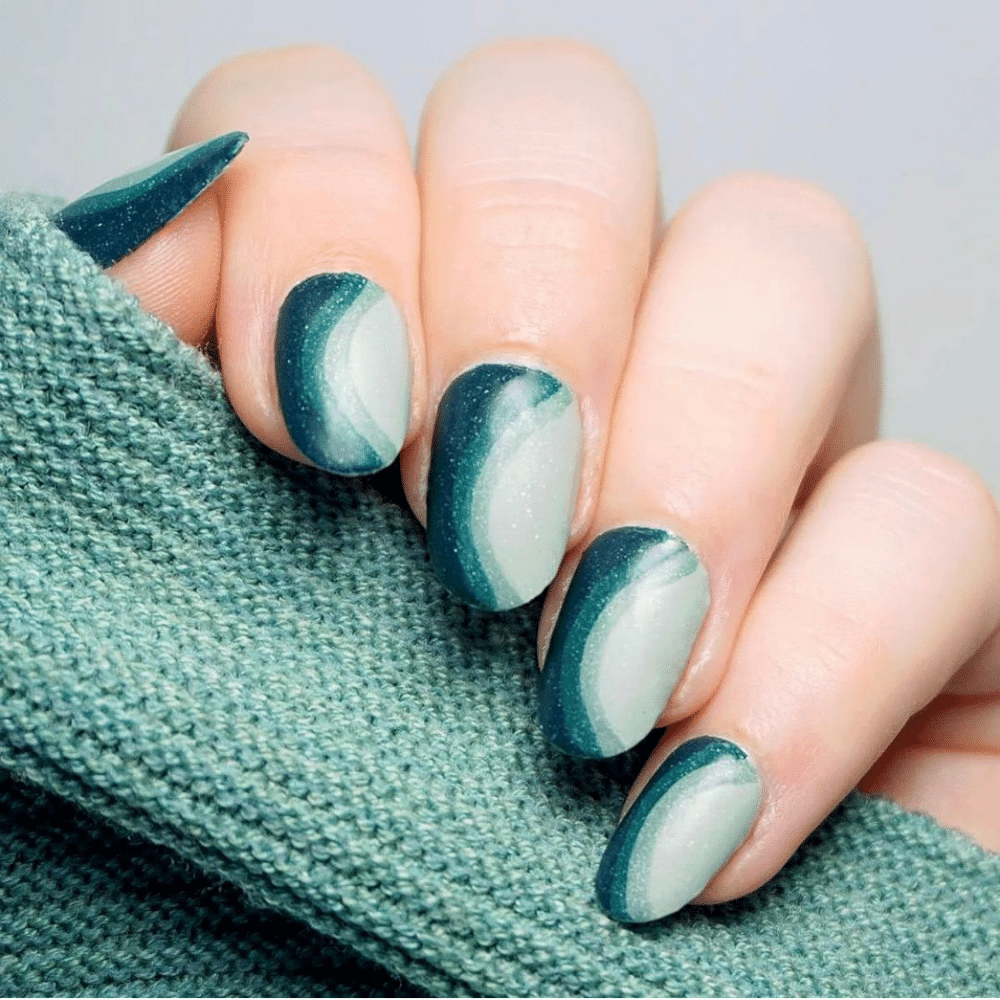 At first glance, it may appear that @freduchka chose dots for her mani, but you'd be wrong! Inspired by a pretty paper bag, she used a small brush to make these tiny spots, and we're obsessed! Choosing the subtle holographic grey Lakodom for a base means the rest of the colours get to shine. Layering Bonkers, Succulent, Ahoy, and Copper Field gives this entry a gorgeous pop of colour while staying minimalistic.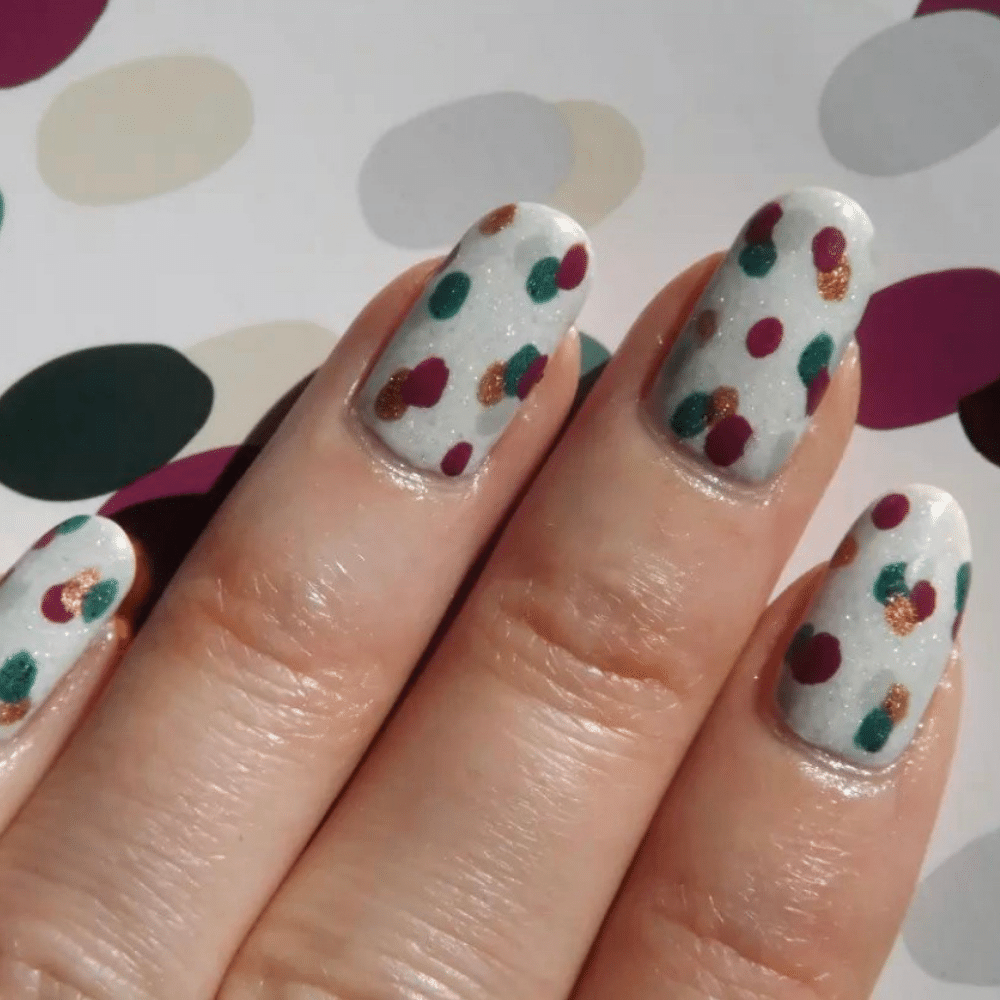 Dots
@poorlydonenailart took the dot theme and ran with it, directly into a field of beautiful flowers! She created this perfect spring manicure using a dotting tool and five dots. With Aquatic nail polish as a deep blue base, the linear holographic in Support glistens and shines. Such a fun way to pair darker and lighter colours with minimal nail art!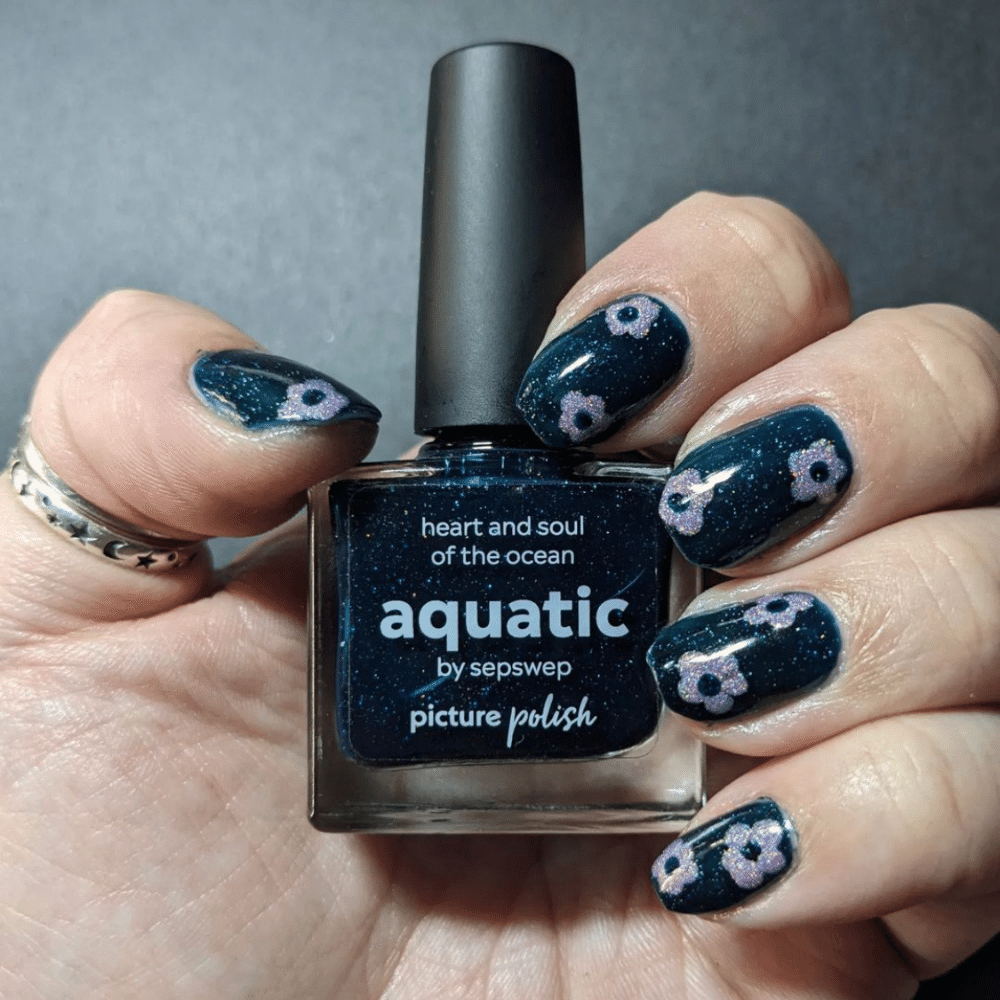 Less is certainly more when it comes to this chic set from @heipyh. Neutral black and white hearts pop against the soft base of Cherish nail polish. With a dotting tool, she used Stamped Black and Stamped White to create delicate hearts close to her cuticle line. Alternating with black and white shows just how dynamic and bold minimalist nail art can be, and we're obsessed!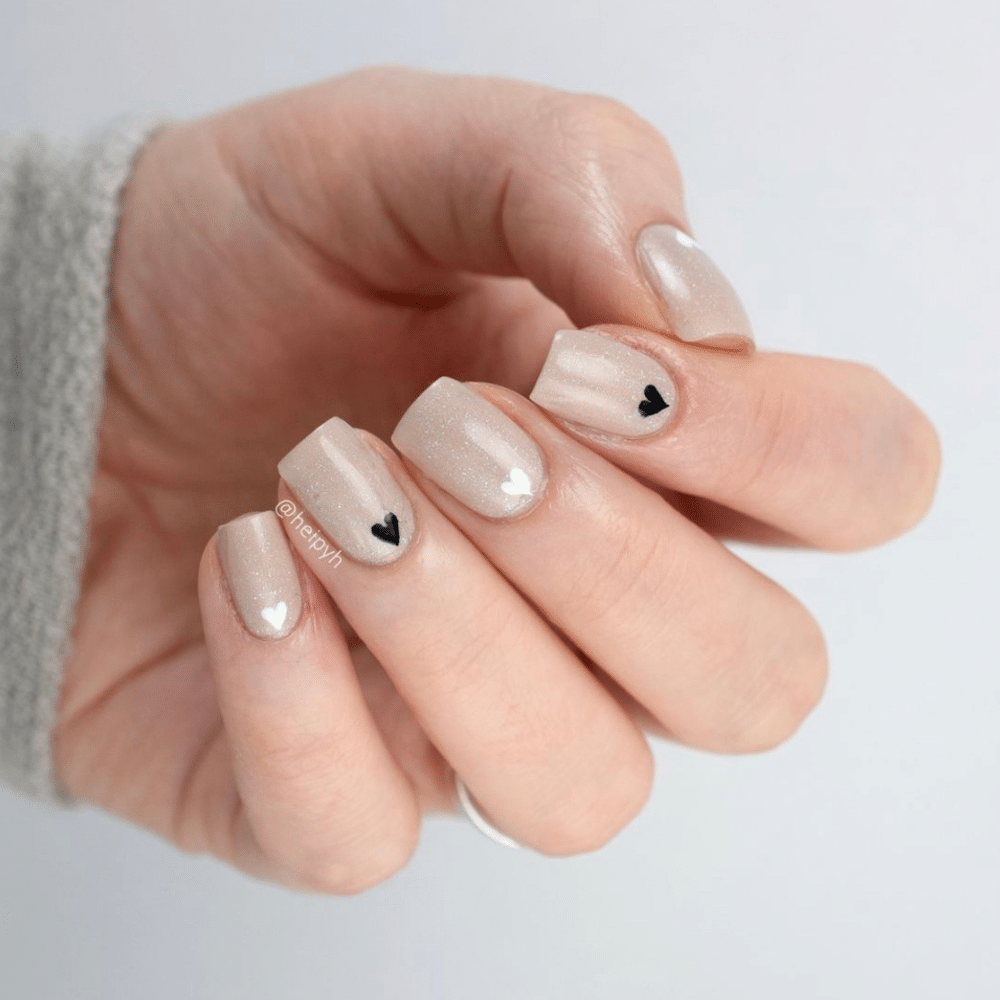 Colour blocking and dots are fabulous ways to punch minimalist nail art. @ma.ri_nail.polish used Hibiscus and Lilas to split the difference in this dynamic manicure. These two polishes are from the same collection that features micro-black glitter. The coordination works so well for two colours that are quite different. And the black dots down the middle are nothing short of perfection.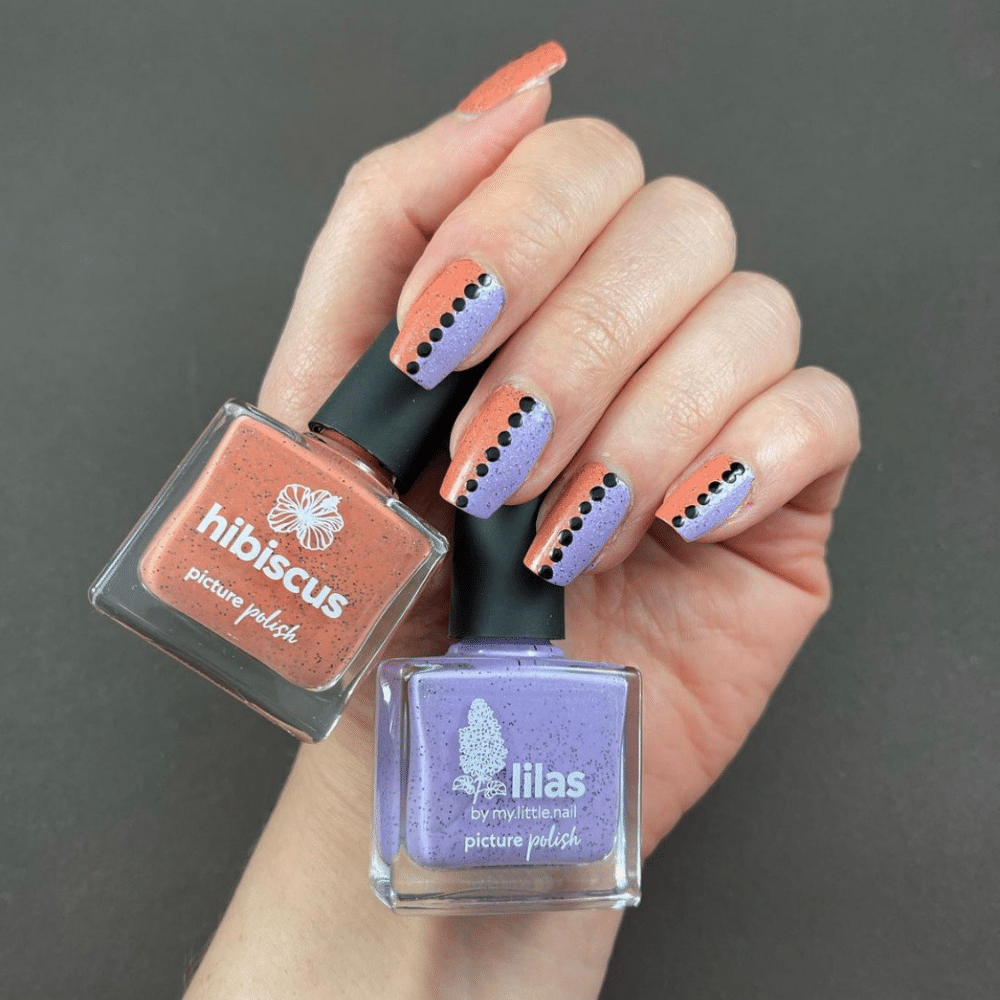 We love a shorter dark nail, especially when painted with Blueberry nail polish! And with two simple dots, this mani from @pinselglueck embraced the minimalist nail art theme in a stylish way. The off-center placement is edgy on its own and taken to the next level with two bold colours. Foxy and Alice nail polish looks incredible against the darker blue base, plus the holographic elements work flawlessly together!
The creativity of minimalistic dotting designs has blown us away in this challenge! For a monochromatic approach in her entry, @megans_manicures used a variety of blues. Ranging from lightest to darkest, she decided on Maldives, and Riviera, with Seawater as the base. And even in dimmer lighting, the crystal-jelly base of Maldives accentuates the holographic elements. Such a stunning manicure!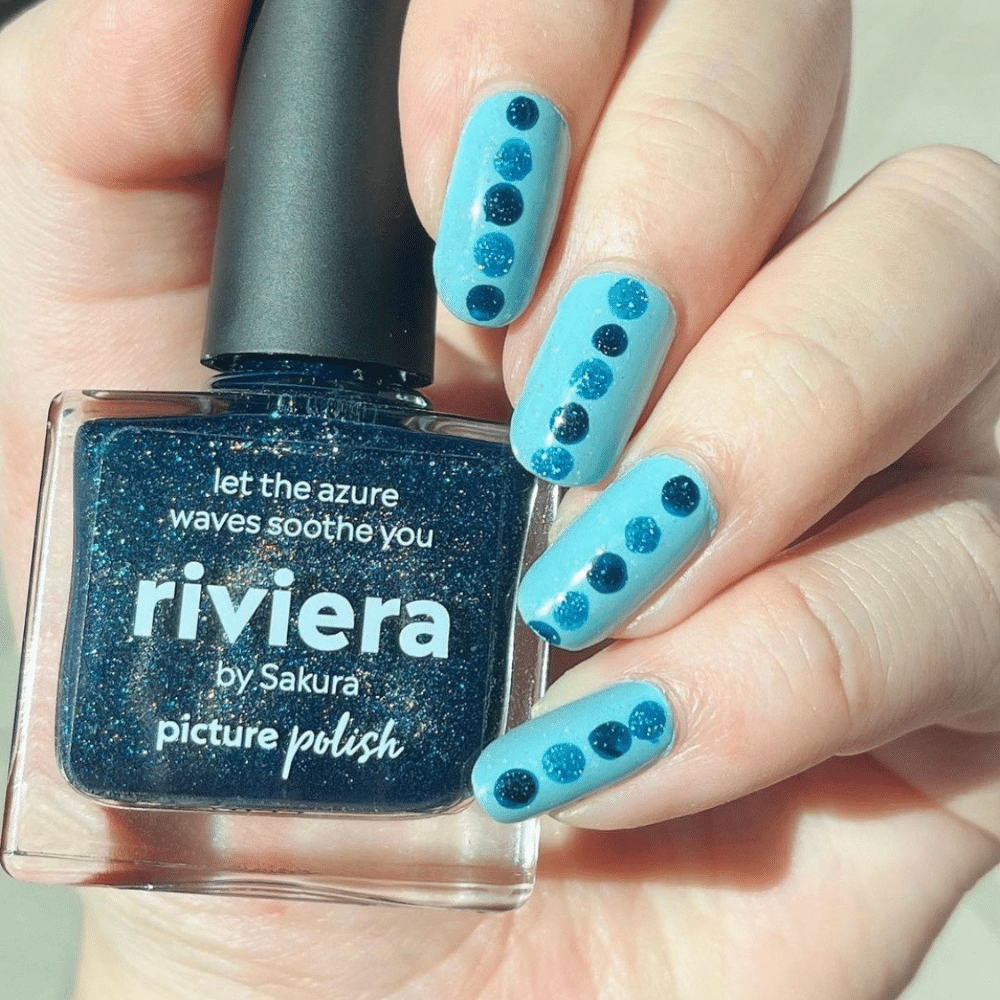 To see what flawless dots look like, feast your eyes on this adorable mani from @mission_possible! Tiny and evenly-spaced dots are quite the challenge, and she did them by hand. Mind blown! Her choice to mix neutral shades and softer colours elevates this minimalistic nail design. Maxing out with five Picture Polishes, she used Haven, Cherish, Florence, Salt Water, and 2001. Keeping the dots white on each nail means they'll be a cohesive design no matter the base colour. We can't decide which nail we love the most!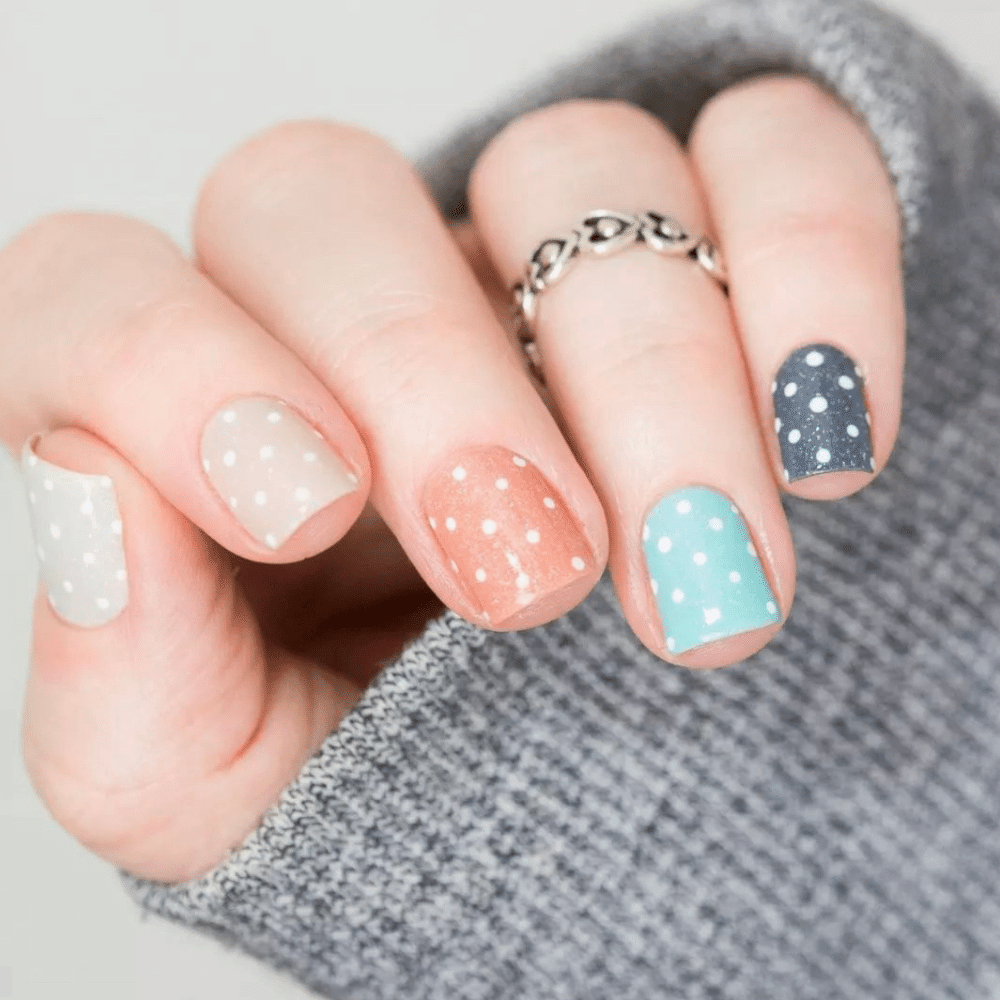 Fully embracing the minimalist nail art theme with her entry is @psipipolish. As some people can't wear nail art at work, we think this is a fabulous way to bend the rules a little bit. Including warmer and cooler-toned greys means a more subtle mani that still has variety. And the glistening holographic shine in Vibes adds a bit of punch while staying minimalistic. Alternating basecoats and feature nails within the same colour family have never looked so cute!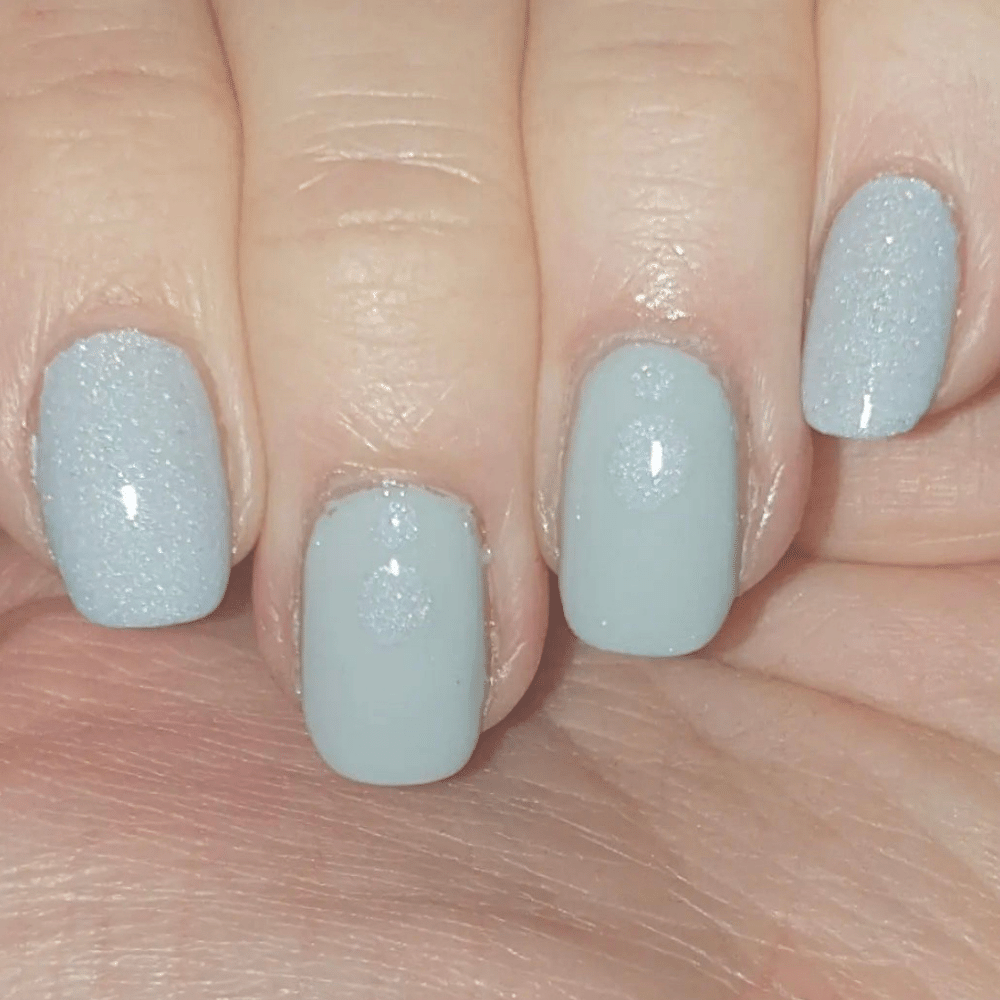 As you can see, we weren't kidding about the talent in the Picture Polish community! We love hosting challenges and then fawning over your incredible entries. And now we have a folder full of minimalist nail art ideas, so thank you! More challenges are coming up, so stay tuned to our Instagram for the next announcement! And please tag us on Instagram @picturepolish so we can see all of the other gorgeous manis you create.