Red By Undertone
February 14, 2021 |
Nails
Have you ever seen a bottle of red nail polish and fallen in love, only to return home to try it and be disappointed? Maybe the red leans too pink or appears too orange? That's likely because of your skin undertone. When choosing the right shade of foundation or lipstick, knowing your skin undertone is crucial. And in regards to red nail polish, it's equally as important. Today we'll help you choose the most flattering shade of red nail polish for your skin undertone!
So what is a skin undertone? Well, it refers to the natural colours underneath the surface of your skin. Skin tones can change for a variety of reasons, but undertones remain consistent. Yes, even when you're in your tanned summer glory or in the middle of a paler winter, your undertone remains the same. And the really wild part? You can have the same skin tone as someone else but a completely different undertone!
The three broad categories of skin undertones are "warm," "cool," and "neutral." Warm undertones include peach, yellow, and gold. Cool undertones have pink, red, or blueish tones. Neutral means your undertones are a mix of warm and cool and often similar to your actual skin tone. And don't assume that lighter skin can't have warm undertones. It's just as likely as someone with a darker skin tone having cool undertones.
There are several ways to determine your skin undertone.
If your skin is light enough to see your veins, check by your wrist to see their colour. If they appear blueish, you have cool undertones. If they appear greenish, you likely have warm undertones. If you cannot see your veins because the colours are so close to your actual skin, you probably have neutral undertones.
Put on a white t-shirt or grab a piece of white paper. Find a spot with good natural lighting and hold the item beside your face. If your skin looks pinkish, your skin has cool undertones. If your face looks more yellow, you're warm-toned. Warm undertone skin also looks better when wearing off-white hues versus stark white, which better suits cool. Neutral undertones are a mix of cool and warm, so you're likely able to wear off-white and also stark-white.
How your skin reacts to the sun is also helpful to determine your skin's undertone. If you burn easily, you're cool. A warm undertone tans easily, and if you burn and then tan, you're probably a neutral undertone.
Lastly, there's the jewelry test. If gold jewelry is the most flattering, you probably have a warm undertone. Cool undertones are often complimented more by silver jewelry. If gold and silver look equally complementary to your skin, you may have a neutral undertone.Now that you've discovered if your skin has cool, warm, or neutral undertones, let's find you the perfect red nail polish!
Reds for Warm Undertones:
Picture Polish reds that suit warm undertones include classic and fun shades. For a bright and summery mani or pedi, try Love nail polish. This neon polish is a slightly warmer red, which means it looks fabulous on those with warmer skin undertones. For NPAs with a sweet tooth, there's the sparkly and sophisticated Macaron nail polish. As a brighter shade of strawberry, Macaron is like sweetness for your tips! Or if you'd prefer a more classic shade of red, try Bridget nail polish, where you also get pops of holo flare. And for a red polish that doesn't try too hard to make an impact, reach for O'Hara's subtle holo.
Reds for Cool Undertones:
Whether you're in the mood for a solid colour or some holo, Picture Polish has fabulous reds for NPAs with cool skin undertones. First up, there's Rouge nail polish. This classic and bold red is a sultry dark creme. Stamped Red is another red creme nail polish that's so highly pigmented, only one coat is needed. Stamped Red nail polish is also specifically formulated for stamping nail art, so keep it in mind for your next mani! Christine nail polish has been described by Picture Polish fans as being a "one stop jelly sandwich," so when you're ready for glitter nails, look no further. And don't forget Double Decker nail polish because this red linear holo completely transforms in direct sunlight!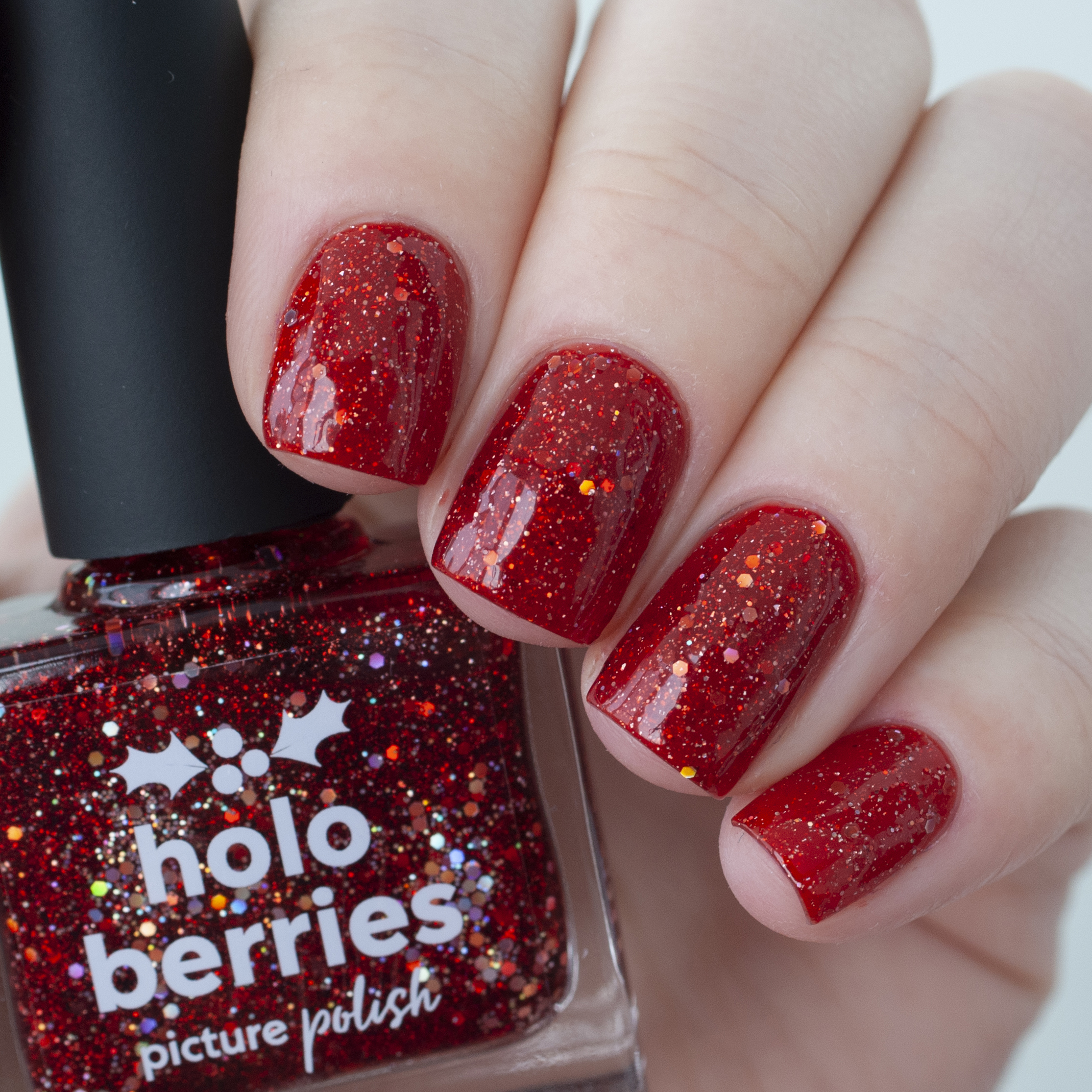 Reds for Neutral Undertones:
The good news about having neutral undertones is that you can rock just about any shade of red. Even so, some cooler or warmer reds may not be as flattering. But these shades are likely to be your mani and pedi home run. Remember is a marsala holographic nail polish and a stunning choice for those who prefer a more understated shade of red. Holo Berries nail polish is the complete opposite and packed with holographic flakes and hex glitters. Rest assured that Holo Berries will garner some attention because it catches every glimmer of light available! Or, for a more classic look, choose Saucy nail polish's deep red creme. Plus, Saucy nail polish is also an excellent choice for water marbling!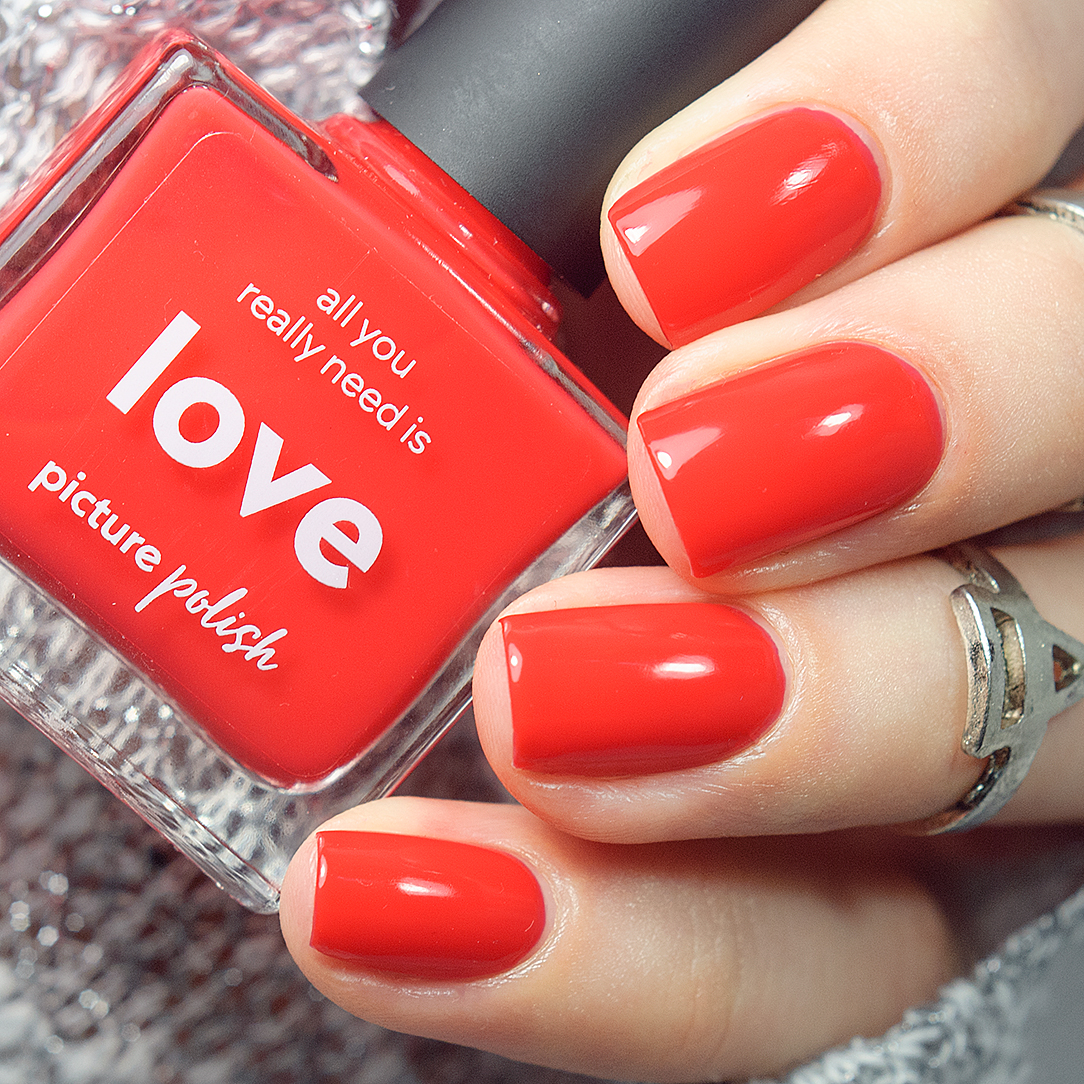 Remember this is only a guide to finding your perfect red nail polish! There are no absolute rules when it comes to rocking red nails, but we hope this post has been helpful!