If you're a fashionista, then no doubt you already know 2022's trademark nail polish colour. Yes, we're talking about neutral nail colors! Classic and chic, neutral nails are being rocked on runways and modelled in magazine spreads. Whether adorning longer oval-shaped nails or short squared tips, neutral nails are the hottest ticket in town.
Neutral nail colors will last throughout the year as far as trend forecasts go. So while the new Picture Polish collection is for spring, these neutral nail polishes can take you beyond one season. At first glance, neutrals can seem the same, but that's not the case. We hope this post will help guide you on which neutrals to wear for each season. But remember that nail polish is a fun way to accessorize, which means there are no hard rules.
Spring Neutrals: Always and Imagine
Imagine nail polish and Always nail polish are first up for springtime neutrals. Although as the name suggests, Always nail polish is for all times and all occasions. As a warm, medium shade of ivory, Always polish compliments most skin tones. In fact, if there were a staple neutral nail polish you need in your collection, it's Always. And for spring, the hint of shimmery scatter holographic adds an elegant touch. Not too bright or bold, but a sophisticated choice of springtime neutral nails.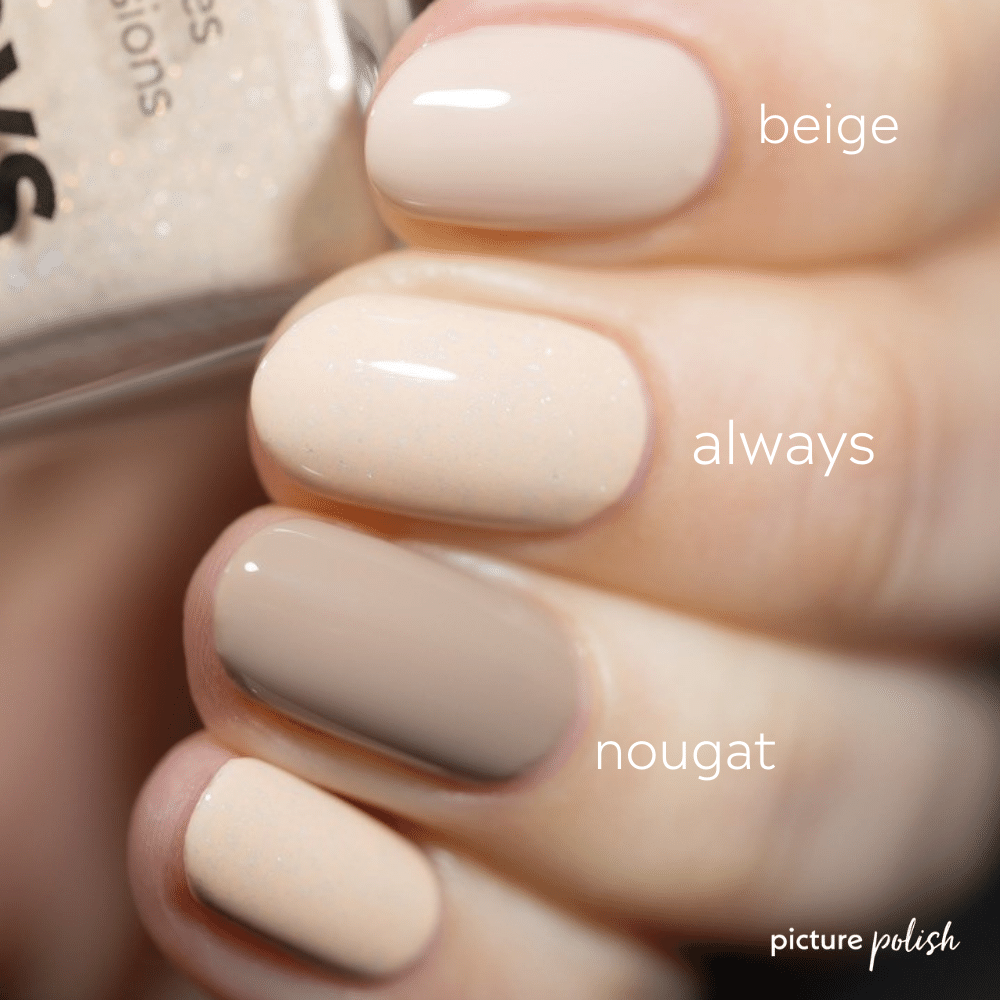 For a cooler-toned spring neutral, Imagine may be your perfect nail polish match. This dreamy pink is almost a pastel but still falls into the neutral nail category. Subdued holographic elements add a bit of sparkle while remaining quite natural. Soft and delicate, Imagine nail polish gives your nails a hint of colour for strolls through blossoming gardens. Or use Imagine polish to get your toes ready to feel fresh-cut grass beneath your feet. And for a modern finish, top with G'Day Matte Top Coat!
Shop Imagine Nail Polish here.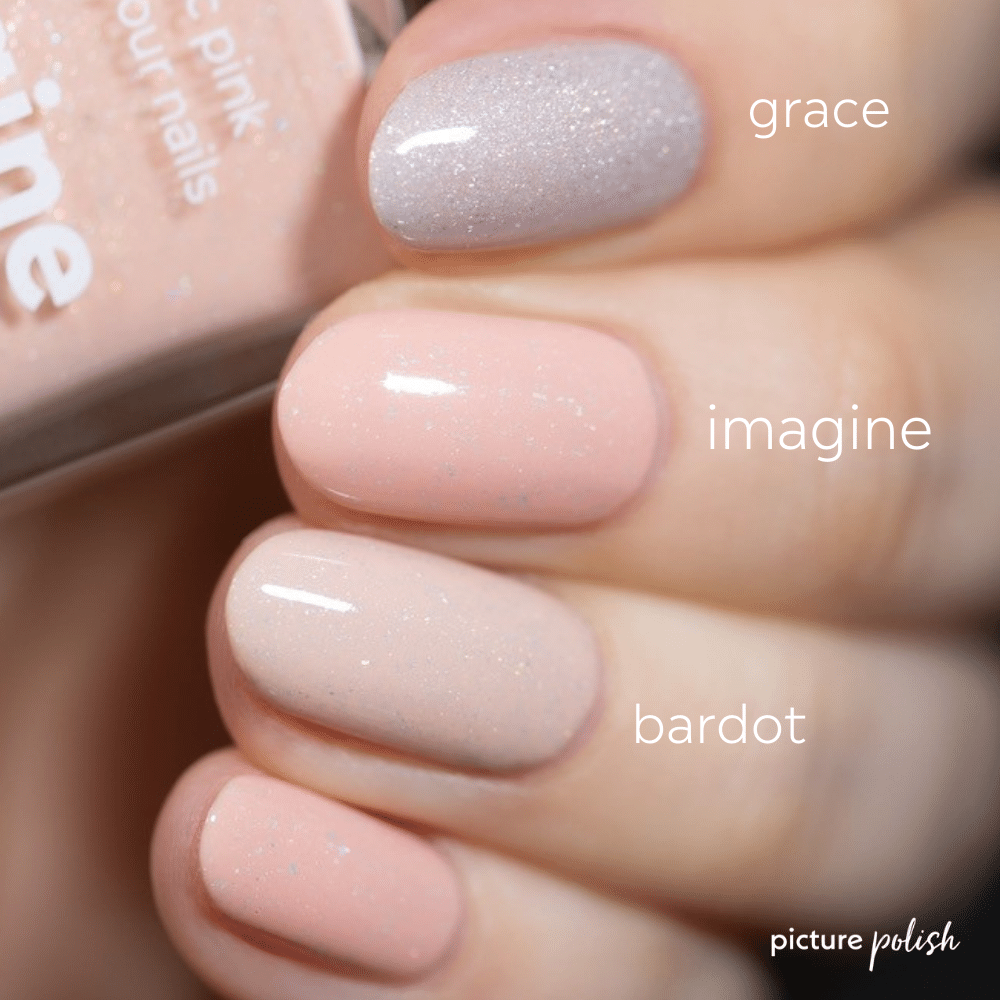 Summer Neutrals: Secret and Blessing
The idea of a neutral nail is to blend in rather than stand out. As such, brighter neutral nail polish may seem like a tricky balance to strike. Lucky for us, Secret nail polish and Blessing nail polish make it look easy. Because while less saturated colours can be considered dull, these two polishes show how it's done!
For all your summer neutral nail needs, Secret nail polish has got you covered. This polish lands on the cooler side, which means your nails will be brighter while remaining neutral. Depending on the light, Secret nail polish can lean grey or purple. So whether you're playing in the sun or relaxing in the shade, this polish is meant to be seen. And when the sunshine does hit your nails, you'll be rewarded with twinkling scatter holo and black glitter. Such a dynamic and versatile polish!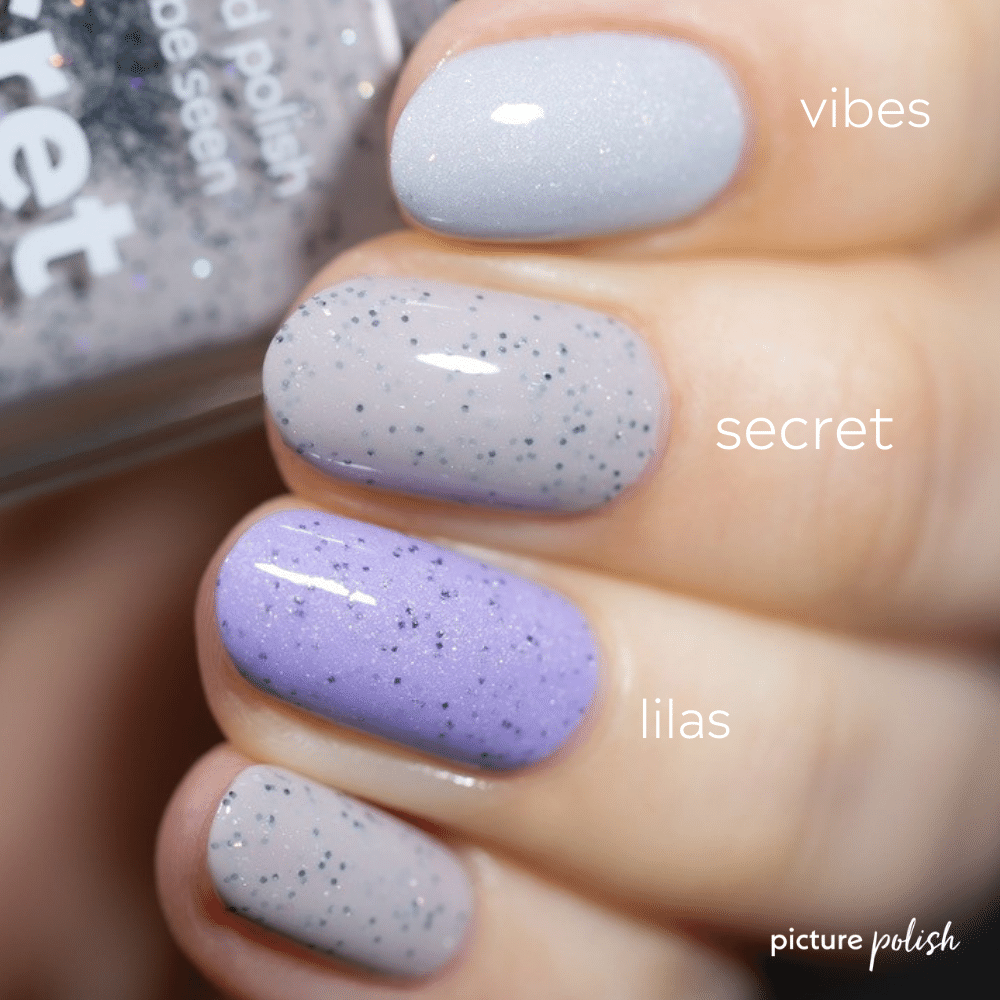 White nails are popular in the summertime because it's hard to get brighter than a crisp white polish. White polish can be too harsh, though, which is where Blessing nail polish fills the gap. First, the message behind Blessing nail polish is important now more than ever. With so much uncertainty, it's important to pay attention to the good around you. And when it comes to summer neutrals, Blessing nail polish's light grey gives NPAs neutral nails without the harshness. When you're getting ready for the next family BBQ or reading a book by a sunny window, choose Blessing nail polish! Speckled with black glitter and scatter holo, Blessing nail polish is also a fabulous base colour for nail art.
Shop Blessing Nail Polish here.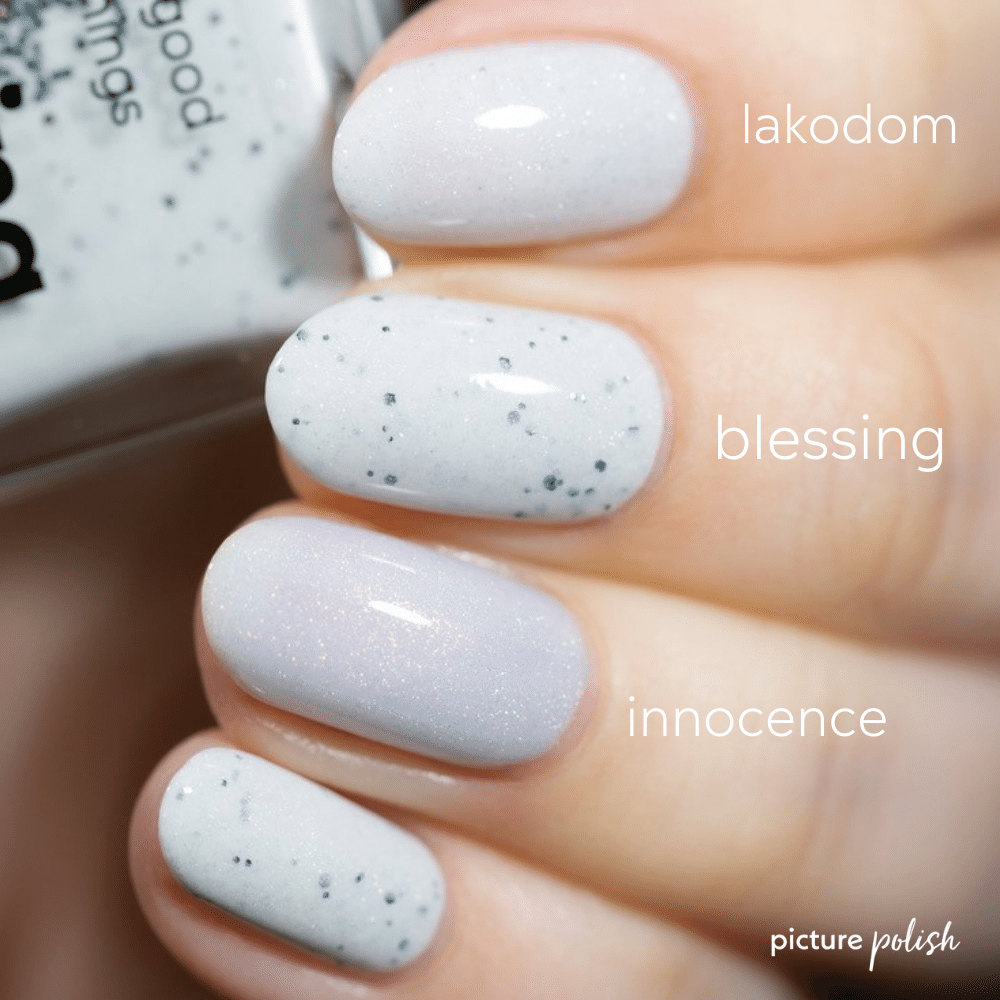 Fall Neutrals: Casual and Stoned
It's hard to imagine, but soon we'll be back to wearing layers and rubbing our hands to stay warm outside. This is when Casual nail polish enters the chat! Casual nail polish's luxurious neutral shade brings forth memories of soft fabrics like velvet and cashmere. The glistening holographic adds a dynamic element with the deeper browny-pink hinting at cooler weather. Neutral nails have never looked so good, even if you have to wear gloves!

Stoned nail polish is the kind of neutral that can seem out of place, at first. As a shade of shale, it lands somewhere between brown, yellow, and green. Similar to pebbles we picked up as children because they were special, Stoned is a speckled polish. A deeper shade of neutral, Stoned nail polish is perfect for fall, and the black glitter adds an edgy twist.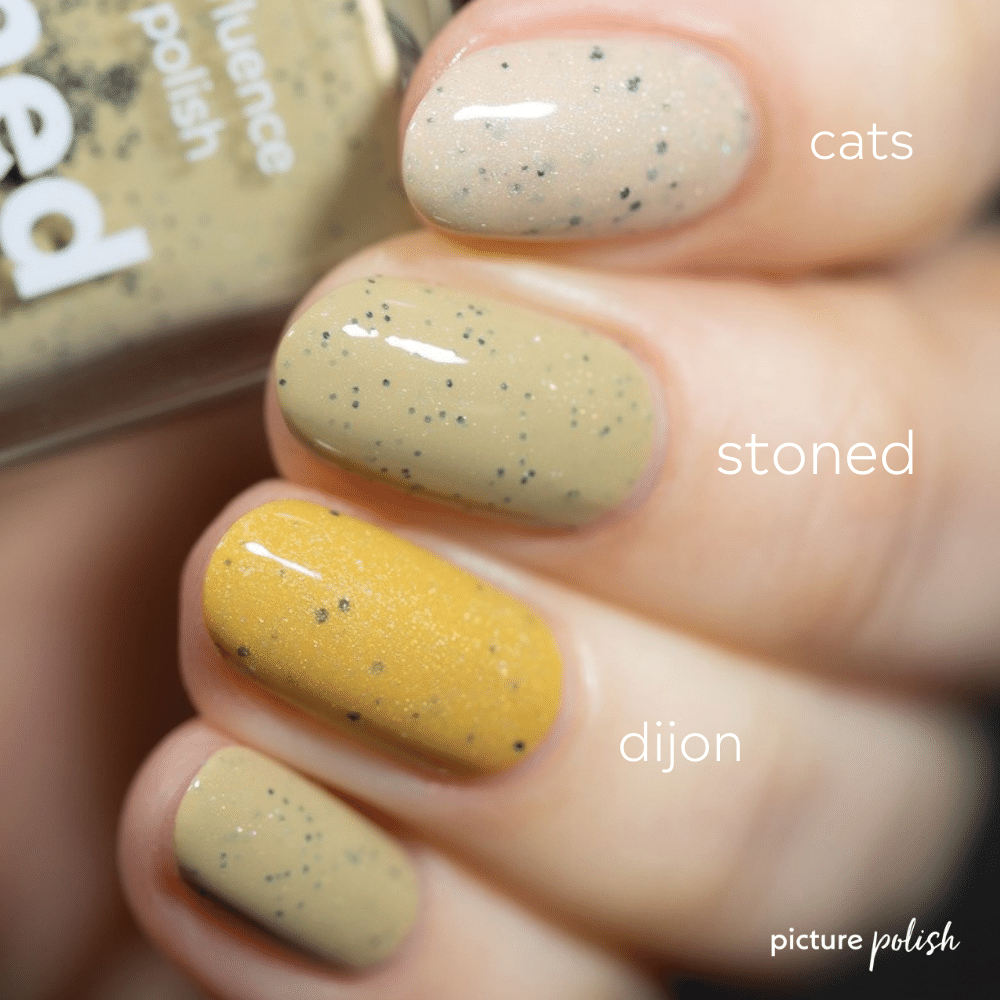 Winter Neutrals: why not wear them all!
Which of these seasonal neutral nail colors will you be rocking? Please tag us in your Instagram posts @picturepolish because we love seeing your gorgeous nails!