We're breaking down the best top and base coats for your nails. Base coats and top coats are the foundation and finishing touch for manicures and pedicures. As such, both are essential components to prepare the nail for polish and then extend wear.
But which one is the best one for you? Well, it depends on your needs, which is why we've put together this article!
Picture Polish has a wide selection of base coats and top coats to choose from. To help you decide, we've highlighted the features and benefits of each one. So let's get started!
Ridge Filling Base Coat
Let's start with our best selling ridge filling base coat appropriately named Fill 'em Up. Nail ridges can happen for many reasons, and they can be frustrating when applying polish. Traditional base coats prep the nail for polish but can't help with ridges, no matter the number of coats. Fill 'em Up base coat features a thin formula that settles into those gaps. Smooth nails are just one coat away or two coats if you have more pronounced ridges. So don't let your ridges get you down! With Fill 'em Up base coat, you'll have an even foundation for whatever fun colour you have in mind.
Shop Fill 'Em Up Base Coat here.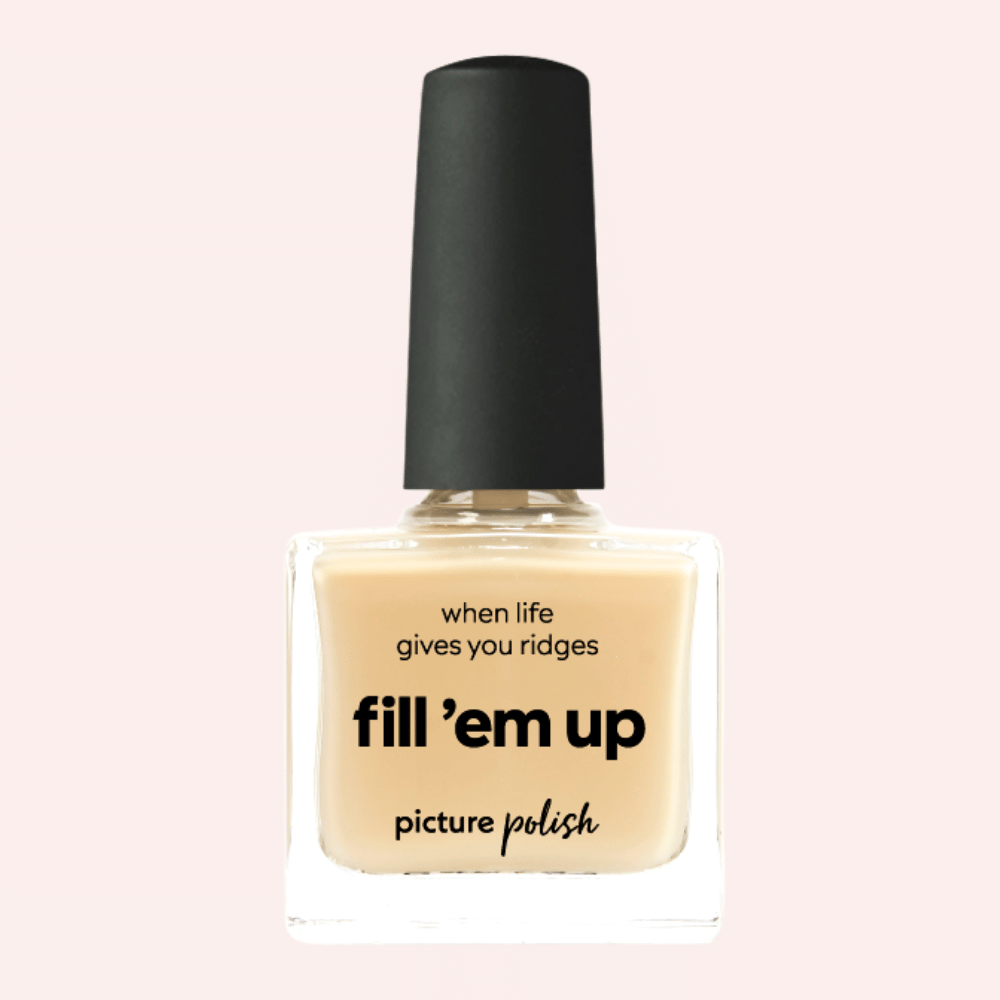 Peel Off Base Coat
Glitter polishes are packed with shiny sparkles that warm any NPA's heart. In fact, the more glitter, the better! As glitter devotees are aware, removal can be very time-consuming. Even more so if you apply glitter polish with a sponge. But fear not, sparkly friends! With Peel Off Glitter base, removal is simple. Apply a thin coat, let it dry, then add as much glitter as your heart desires. When you're ready to remove it, grab a wooden cuticle stick. Gently lift the polish and peel off the rest. Sometimes the polish will pop off intact, and to be honest, it's pretty satisfying to watch! For short-term wear only, and be careful around water. View how to use Peel Off Base Coat here.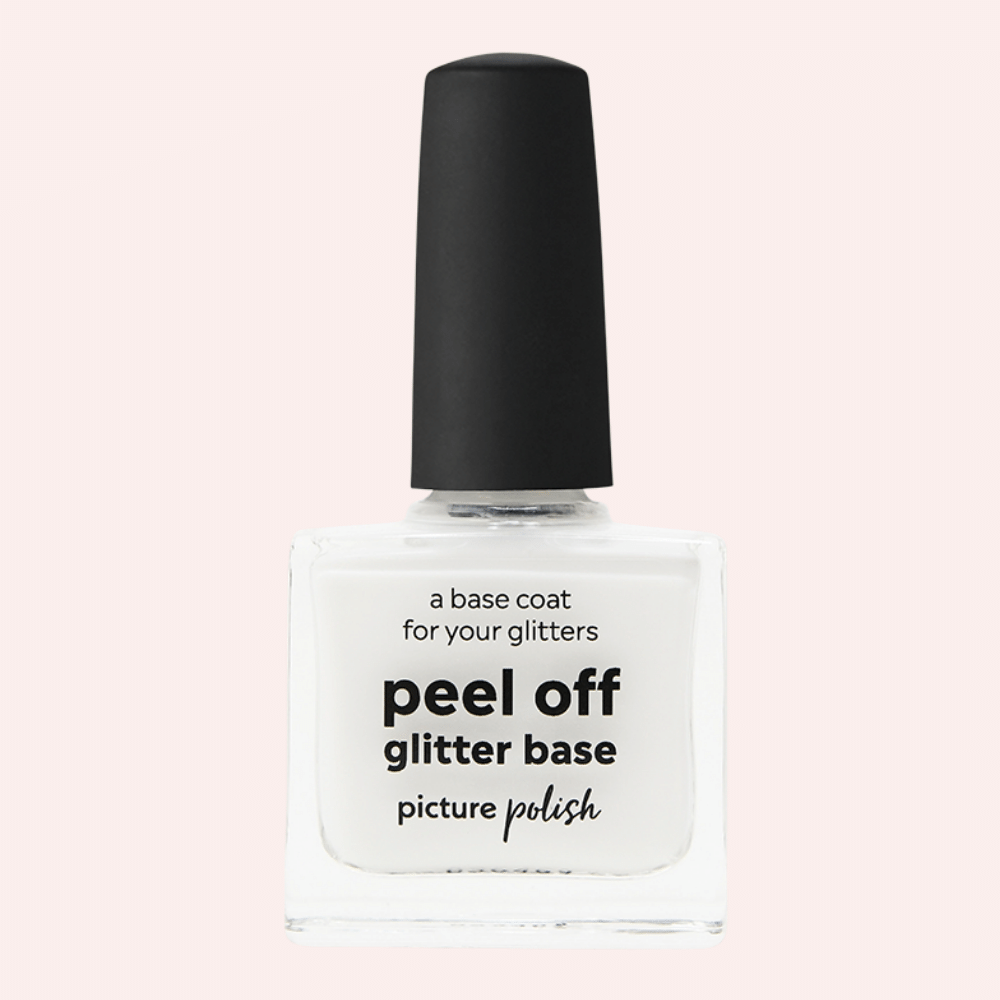 Dual Purpose Base and Top Coat
When storage is at a premium, Top'n Base does double duty. As the name suggests, this product is a base coat and a top coat. It's relatively quick-drying, although not as quick as Looking Glass. Top'n Base is a great way to start a mani and then seal in the stunning results. And if you love to use nail powders or foils, Top'n Base works well as a final top coat.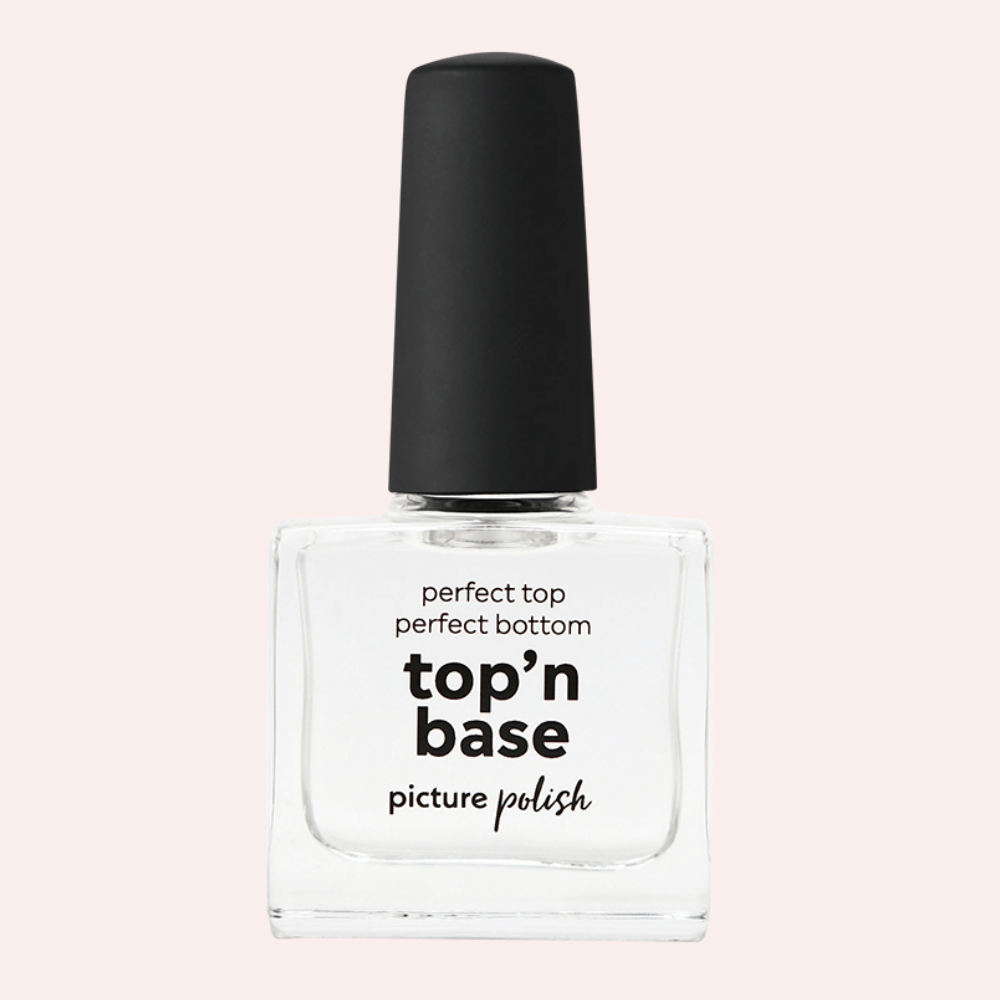 Water Based Top and Base Coat
This specialized hybrid top and base coat is for those who love adding extra elements to their nails. Designed to make working with nail foils and glitter easier, Revolution can be used in a couple of ways. First, as a base coat for glitter, which aids in removal. Wear time is somewhere between Peel Off Glitter Base and Top 'n Base when applied as a base coat. Secondly, Revolution works as a top coat for foils, powders, and flakies. This extraordinary formula seals in the shimmery and shiny effects without dulling them. Some Picture Polish fans like to add an extra layer of Looking Glass on top, to extend wear.
Shop Revolution Top and Base Coat here.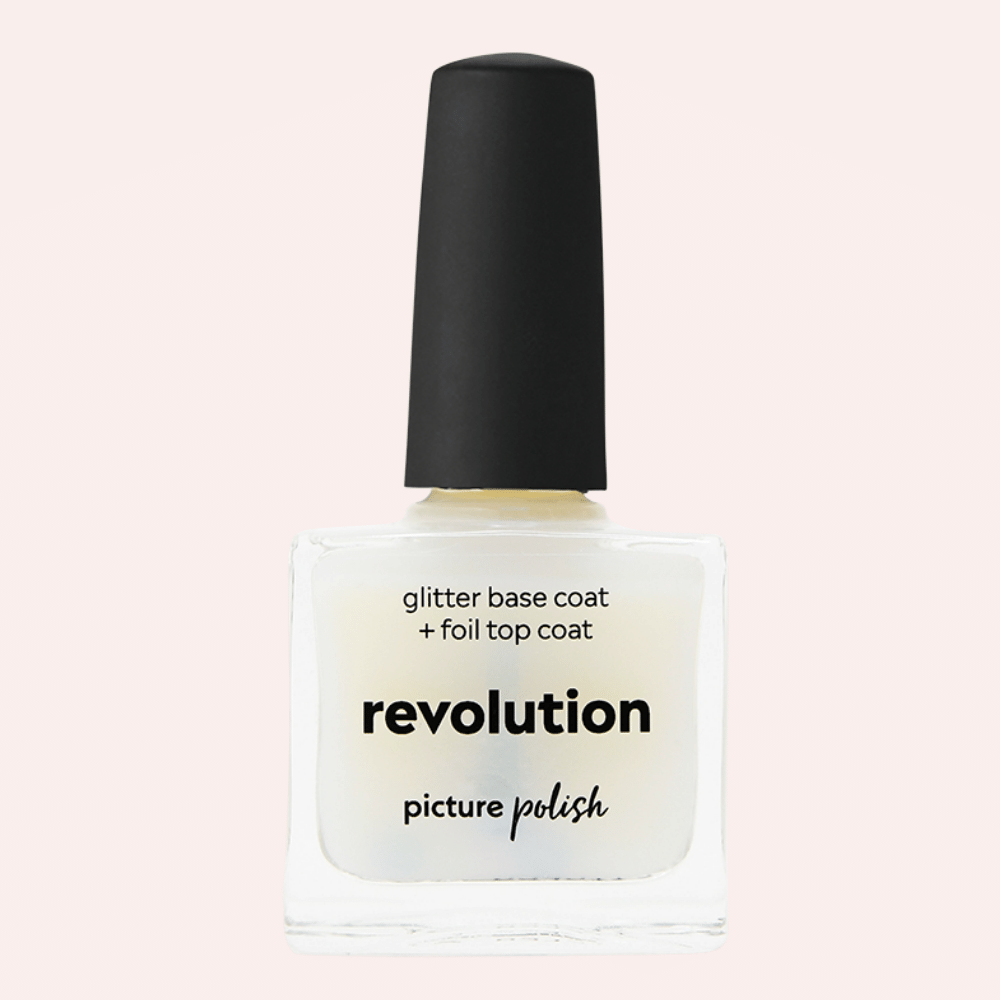 Fast Dry Gloss Top Coat
For those who need a quick mani, we recommend our best seller Looking Glass top coat. This clear top coat dries faster than traditional ones and has been popular for a while. Recently, Looking Glass topcoat went under a makeover. Yes, the rumours are true, NPAs! This fan favourite top coat is even better than before. No shrinkage or streaking to worry about, Looking Glass top coat leaves you with glossy and shiny nails!
Shop Looking Glass Top Coat here.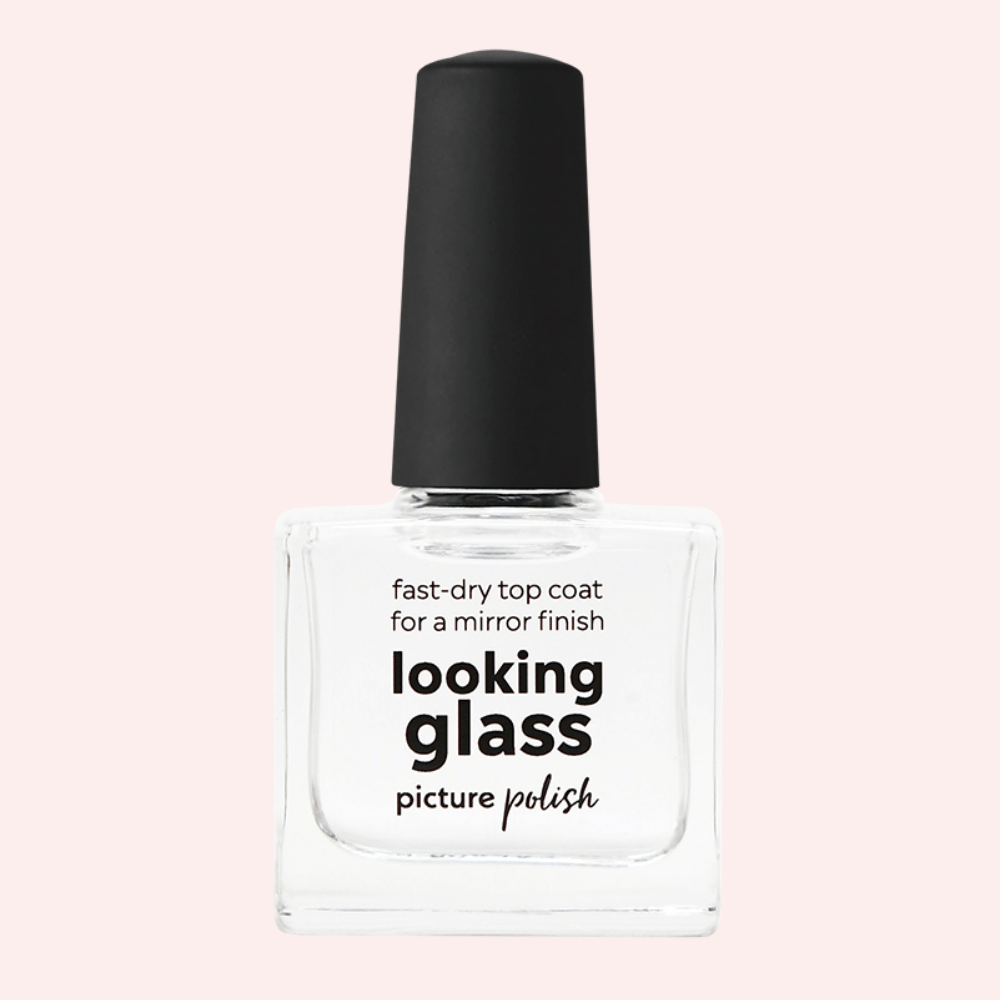 Gel Like Top Coat
If you love the look of gel nails but prefer using traditional polish, you need to meet Gloss On Top. This incredible formula transforms the final appearance of any traditional polish by adding a plump and glossy finish. The closest to gel that you can get but with effortless removal. The dry time does take moderately longer, but perfection cannot be rushed. Not only does Gloss on Top extend your manicure, but it also showcases holographic and glitter polishes. When you have a little more time on your hands, so to speak, Gloss On Top is worth the wait!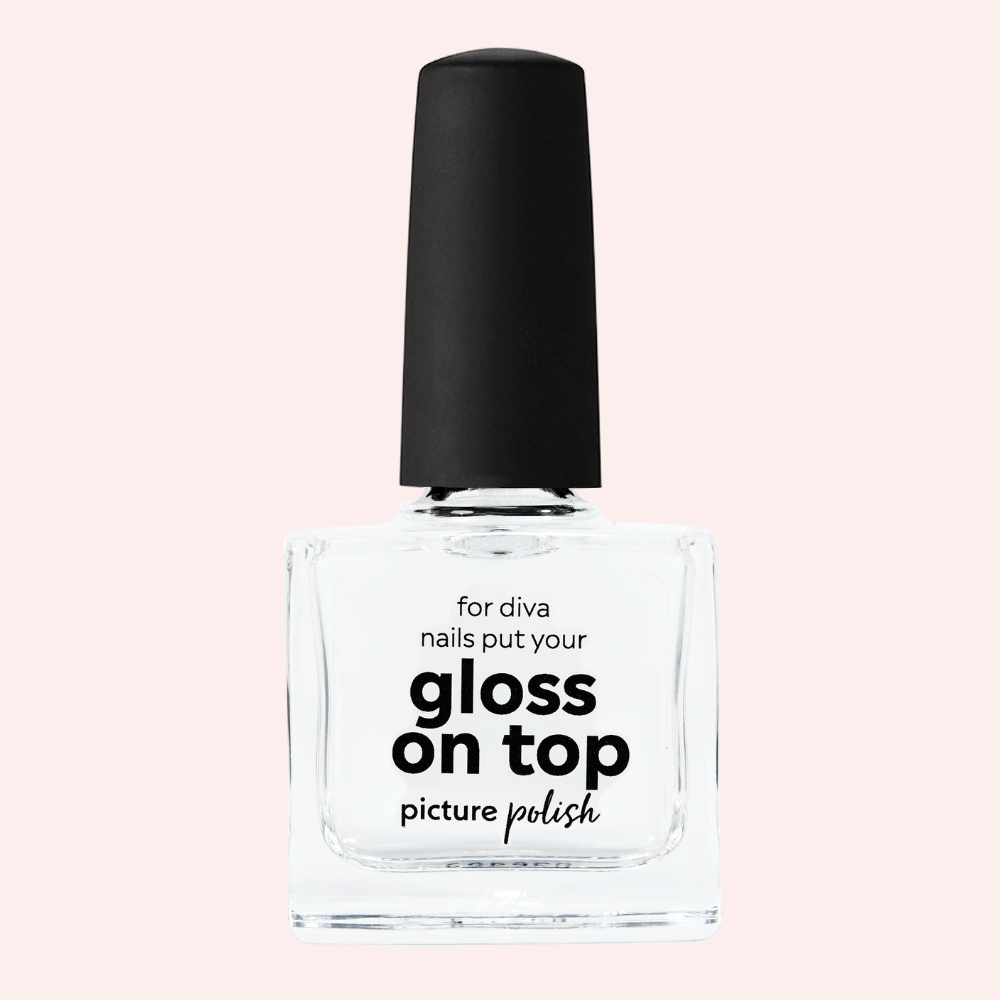 Matte Top Coat
G'Day Matte is a way to transform your nails. By changing the finish from glossy to matte, colours appear dramatically different. Black becomes darker and sharper while neons practically glow with vibrancy. Such a simple process, yet one that adds a modern twist to every colour in your collection. Try a feature nail or all at once. Or break out The Detail Brush and paint a matte design for an edgy look. Matte French Tips, anyone? So chic.
Shop G'Day Matte Top Coat here.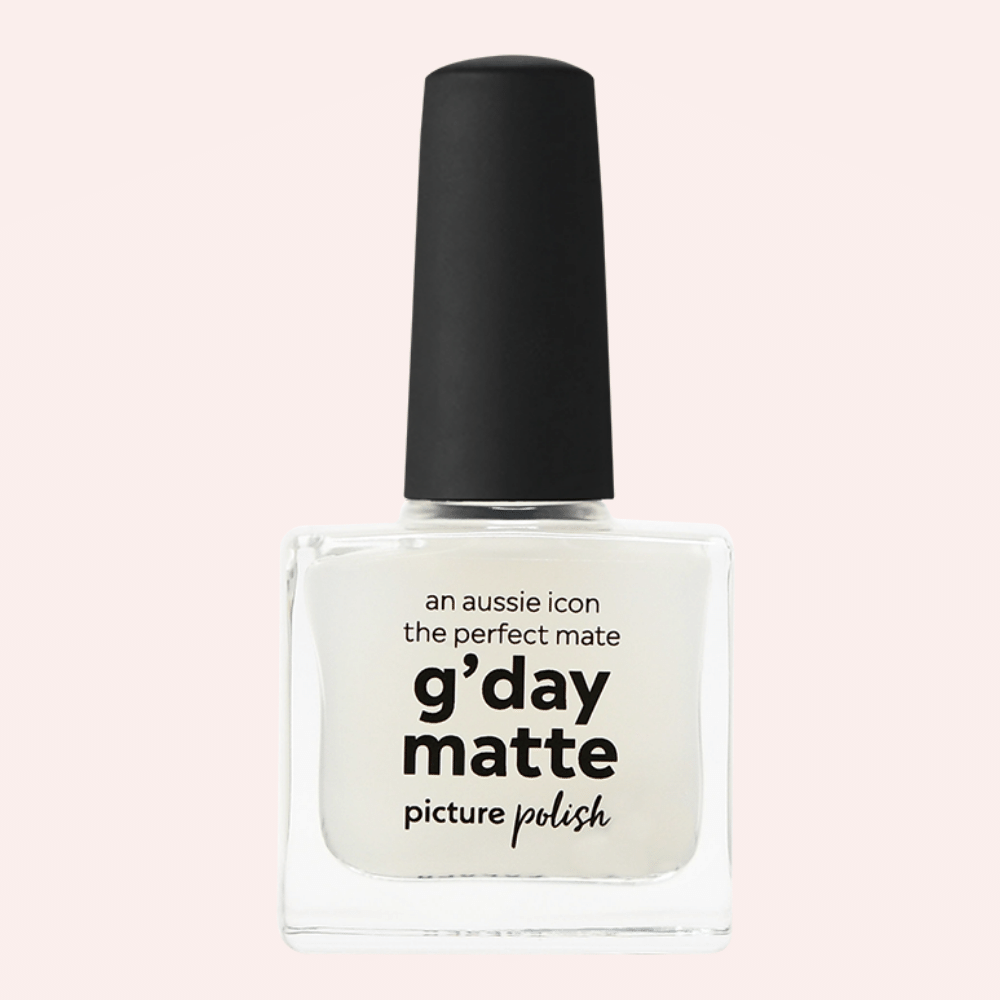 Curable Lacquer Gloss Top Coat
Exclusive to the Picture Curable collection, Glossy top coat is the finishing touch to your mani. The Picture Curable system lands somewhere between a traditional polish and gel and requires curing under the PC Spaceship. As the final step in the process, Glossy brings a lustre to manis and pedis. Glittery and holographic details are highlighted, while other colours are made even more vibrant and chic. All in two minutes of curing after application. No muss or fuss, just fabulous nails that last longer than traditional polish.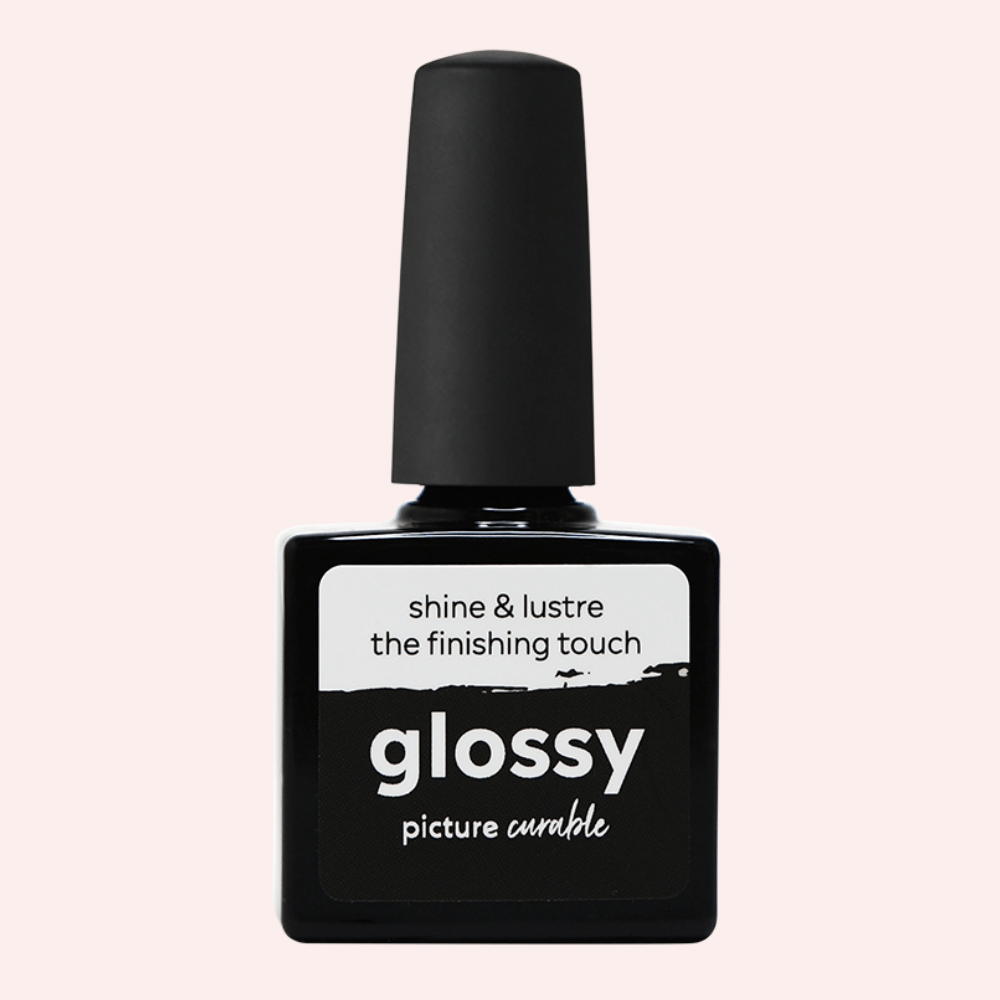 We hope this post helps you find the perfect and best top and base coat for nails here. Sometimes, you have to try a few to find the best, but that can be fun, too! No matter which base coat and top coat you choose, you're one step closer to fabulous nails. Happy painting, Picture Polish fans!